On March 18th, 2020 the world will come together to celebrate Global Recycling Day: a day dedicated to recognizing and celebrating the importance that recycling plays in preserving our natural resources and securing the future of our planet. In a recent blog post, we explained how our ecosystem can no longer sustain the "take, make, and waste" model we currently use and why it's time to transition to a circular economy. In honor of Global Recycling Day, this week we're exploring the people, places, and activities that are contributing to a more sustainable planet and embracing the circular economy concept. Follow along to get inspired and to learn how your business can participate!
The History of Global Recycling Day
Every year, the Earth yields massive amounts of natural resources, and at some point, they will run out. When this happens, the Global Recycling Foundation states that it will directly impact humanity by increasing poverty, creating mountains of waste, reducing job opportunities, and more. To keep this from happening, Global Recycling Day aims to bring people together to prioritize the planet and encourage individuals to see recyclable materials not as waste, but resources. The Global Recycling Foundation also invites individuals to tell world leaders and governments that recycling must become a global issue and that a common approach to recycling is needed. Since launching in 2018, 600 million people around the world have participated in Global Recycling Day and organizers hope to increase overall participation to 1 billion people in 2020.
What's in store for 2020?
The 3rd annual Global Recycling Day will take place on Wednesday, March 18th, 2020, and will focus on recognizing and celebrating recycling heroes throughout the world, from children to businesses to communities. The foundation behind Global Recycling Day leveraged social media to find ten unsung recycling heroes who will all receive $1,000 to contribute towards their initiatives. To get into the spirit of GRD, we are recognizing several influential people, places, and businesses that are playing an essential role in creating a more environmentally stable planet:
GRETA THUNBERG Fights For Climate Change
Greta Thunberg is a 17-year-old climate activist who inspired a global movement for change. In 2018, Greta started a school strike outside of the Swedish Parliament called the "Fridays For Future" movement - or School Strike for Climate - encouraging students to skip school to demand action on climate change from their governments. Since then, Greta has traveled the world and inspired many youths to pressure leaders and lawmakers to act on climate change through school walkouts. Thunberg was nominated for the Nobel Peace Prize in March 2019 and became the youngest person to be named Time Magazine's Person of the Year.
SAN FRANCISCO is a recycling superstar
San Francisco leads the United States when it comes to recycling. In 2002, San Francisco set a city-wide goal of Zero Waste by 2020. Since then, the city passed a Mandatory Recycling and Composting Ordinance, requiring businesses and residences to recycle and compost their materials. Due to increased awareness among San Francisco residents and strict rules about how residents and businesses can discard items, San Francisco currently diverts around 80% of its waste from landfills, which is more than any other city in the United States.
Estée Lauder Companies Embrace a Circular Economy
Estée Lauder became a member of the Circular Economy 100 (CE100) program ran by the Ellen MacArthur Foundation in 2019. The CE100 is a global platform that brings industries together to help the world transition to a circular economy. The skincare and makeup brand helps to drive a circular economy through sustainable packaging and innovation. Estée Lauder Companies says that by the end of 2025, 75% to 100% of the packaging of its brands will be recyclable, refillable, reusable, recycled, or recoverable.
RoadRunner is changing the way businesses recylce
In honor of Global Recycling Day, we wanted to take this opportunity to explain how RoadRunner is changing the recycling game. In an effort to help businesses in America recycle more and spend less, we've developed a technology-driven approach designed to make recycling and waste management operations massively more efficient while decreasing associated costs. Here's how it works:
Our technology allows us to understand the volumes of waste and recycling streams generated by businesses across entire cities and what containers will most efficiently hold these materials, all while creating the most efficient pickup routes. We partner with local fleet-based drivers who use their own trucks to pick up the materials, eliminating the need for heavy, outdated, and expensive equipment. And because we encourage businesses to pre-sort their recyclables, the haulers can drop off the materials directly at a local buyer or recycling center in town, completely removing the need for sorting-centers all together. In the end, this significantly lowers costs, increases recycling rates for businesses, and decreases our communities' environmental footprints.
If you're interested in learning more, we encourage you to check out our free guide below that acts as a starting point for understanding how it all works: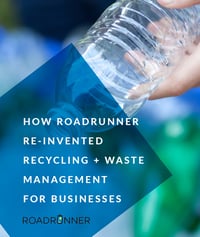 HOW TO GET INVOLVED ON GLOBAL RECYCLING DAY
There are many ways your business can make a difference on Global Recycling Day, but your contributions do not need to be limited to just one day. The Global Recycling Foundation encourages individuals to consider the following questions to become better recyclers:
1. Can we change what we use for the good of the planet?
2. Do we ensure that we really have used a product for as long as possible before we bin it?
3. When we have finished with our food, toiletries, boxes, wrapping and even big electrical items, do we dispose of it all in the correct way?
While considering these questions is a great place to start, Global Recycling Day is also an excellent opportunity for businesses to celebrate their own recycling innovations and think about how they would like to improve them. Please share your ideas with us in the comment section below. We would love to hear how your business will be celebrating, and what ideas you have that will help your community become better recyclers! Thank you for reading.