From retail stores and grocery stores, to office buildings and distribution centers, businesses of all types and sizes generate significant amounts of cardboard waste. In fact, the United States consumes approximately 100 billion corrugated boxes each year! By recycling cardboard, businesses can conserve natural resources, save space in landfill, all while reducing their waste costs. Fortunately, there are many ways to make cardboard recycling easy and manageable at your business. Read on to learn the best practices of cardboard recycling and how following them can benefit your business.
CARDBOARD RECYCLING BEST PRACTICES
CREATE A SEPARATE CARDBOARD RECYCLING STREAM
Keeping cardboard separate from other materials helps avoid contamination. When different types of waste materials are collected together, they are often exposed to food residue, liquids, and other particles that result in contamination. Fibrous materials with even the slightest contamination are rendered non-recyclable. Collecting the cardboard separately from other materials ensure it remains recyclable and retain the value that existed for it in the first place.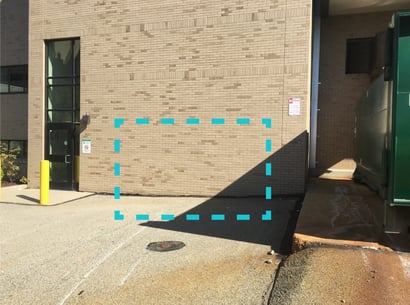 ESTABLISH A RECYCLING SYSTEM
Most businesses produce cardboard in many areas within their facility. Establishing a system for collecting the cardboard at each generation source will make recycling convenient for your staff. If you're not sure where to start, conducting a waste audit will help you determine which areas or departments generate the most cardboard. Based on your findings, you can set up a cardboard recovery station at each location. For more information, download our guide to conducting a waste audit.

REMOVE ATTACHED MATERIALS LIKE PLASTIC, STYROFOAM, AND FOIL
Many packaging materials ship along with cardboard boxes to ensure the products inside remain safe. When preparing the cardboard for recycling, make sure to remove the materials such as plastic liners, tape, packing Styrofoam, bubble wrap, and foils. These materials are not recyclable and can contaminate the entire load if left attached to the cardboard!
BREAK IT DOWN
Breaking down your cardboard boxes creates more space in your dumpster, reducing the number of pickups needed. Fewer pickups = more cost savings. Follow these steps for properly 'breaking it down' so they can be easily stacked in your container:

1. Take your box and turn it upside down. Run a box cutter along the center bottom, slicing through the packing tape.
2. Repeat this under the two flaps on each of the box, freeing the tape at the edges.
3. Pull all four straight up, so that all edges on either end move freely up and down.
4. Lightly push and twist in until the box collapses on itself, now flattened and ready to stack!
Not only does 'breaking it down save' space in your containers, but it's also easier for haulers to manage!
STORE RESPONSIBLY
To ensure that your cardboard remains valuable and undamaged, focus on these storage tips:
- Store the cardboard horizontally in your receptacle to fit as much as possible without damaging it.
- Tie the flattened boxes in bundles to save space and to help the haulers manage it.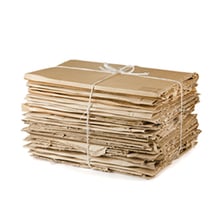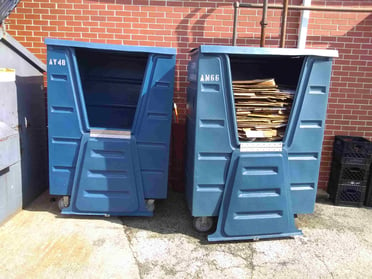 KEEP IT DRY
Once cardboard becomes wet, it is very difficult to recycle. Most haulers will not accept wet cardboard because it can clog up the recycling machines that most recovery facilities use, costing your business money. Keep your cardboard valuable by storing it in a dry and protected area and by keeping it separate from liquids and other materials. If your cardboard station is outside, the best way to protect it from rain is to use a recycling container with a lid. If your cardboard does happen to get wet, put it in the trash so it does not contaminate the rest of your cardboard.

KEEP CARDBOARD FREE OF FOODS, LIQUIDS, AND OTHER CONTAMINATES
Cardboard contaminated with food waste, oils, or wet surfaces can contaminate the entire receptacle. Even a single contaminated box can send an entire bale to landfill. Pizza boxes and to-go boxes are some of the biggest culprits of cardboard contamination. This is because the oil from the food cannot be separated from the fiber during recycling, making the cardboard less marketable. Cardboard that comes into contact with food, liquid, or oil should go into the landfill container. As a rule of thumb, the following are not accepted as recycling:

- Frozen food / take-out boxes
- Grease / food contamination
- Coffee cups
USE CLEAR AND CONSISTENT CARDBOARD STICKERS AND SIGNAGE
Educational stickers and signage will create awareness and encourage your staff to recycle more, all while reducing contamination. Color-coding the signage and stickers to match your containers can be an effective way to consistently capture cardboard at all points across your facility. To help your staff, visitors, and cleaning staff recycle correctly, place the educational stickers on each of your cardboard containers, and the signage near each of the collection points to reduce confusion.
RENT A BALER
Many businesses who generate large volumes of cardboard use balers to make the process of managing the material more efficient and cost-effective. Balers compress recyclables into compact bales, which makes stacking and transporting the materials very easy. If this sounds like something that could help your business, view our rental options here.
The benefits of recycling cardboard
Curious about the environmental benefits of recycling cardboard? According to the EPA, creating products from recycled cardboard only requires 75% of the energy needed to create cardboard from virgin materials. And instead of using natural resources, creating products from recycled cardboard produces the same end product, all while conserving these natural resources. For every ton of cardboard your business recycles, it saves about 17 trees, 46 gallons of oil, and 9 cubic yards of landfill space.
While the environmental benefits of recycling cardboard are massive, businesses benefit from recycling cardboard too. By recycling cardboard your business will:
- Improve recycling rates
- Reduce waste disposal costs
- Save space in waste containers and perhaps reduce the size of waste containers
- Reduce pick-up frequency
- Create a cleaner work environment
- Boost company morale
READY TO START RECYCLING CARDBOARD?
With those benefits in mind, are you ready to start recycling cardboard at your business? Our comprehensive recycling services handle everything from the efficient waste set-up in your office space to scheduling pick-ups to saving your business money by recycling more.