In the last 60 years, plastic pollution has become one of the most significant threats to our environment. Every year, humans produce over 300 million tons of plastic, 50 percent of which is used for single-use purposes and ends up in the trash. The majority of all plastic (79 percent) accumulates in landfills or our natural environment, negatively impacting oceans, wildlife, and humans. Thankfully, we have seen an uptick in organizations and individuals taking conscious steps towards reducing plastic waste to help mitigate the massive scale of the issue. That said, despite these best efforts, it can, at times, feel impossible to make a difference. However, taking some time to comprehend the negative impacts of this problem, evaluating your household's plastic habits, and observing where changes can be made is a big first step. Remember, it's small actions, collectively, that can make the most impact. And, the good news is, you don't have to take this issue on alone because organizations and individuals around the world will be participating in Plastic Free July this year—a global challenge aimed at reducing single-use plastics.
All of us here at RoadRunner will be taking part in the challenge, and we invite you to join us in our commitment! Dive into the post below to learn more about the plastic-free movement, how best to get involved, and the steps you can take to reduce your consumption this July and beyond. Continue reading and be sure to follow us on social media (@roadrunner_recycling) for more tips on reducing plastic, as well as our learnings from this journey!

What is Plastic Free JuLy?
If you have ever wanted to reduce your environmental impact, this month is the perfect time to start! Plastic Free July is a global movement that empowers millions of people to be part of the solution to plastic pollution by refusing single-use plastics. For context, the event was launched in 2011 as a result of the rampant increase in plastic pollution and our recycling systems being challenged from it. Since then, millions of people throughout the world take part in the movement every year, with many committing to reducing plastic throughout July and finding their habits continue long after the event concludes.
If your business is on the fence about participating because you don't think it can make a difference, data from the Plastic Free Foundation found that 90 percent of individuals who participated last year made changes in their everyday lives to reduce plastic that lasted beyond July. Eliminating plastic can seem like a tall order, but Plastic Free July's website makes it convenient to get started by helping individuals pledge to participate on different levels, whether it's one day, one week, the entire month, or from now on. You can also choose how you would like to participate, whether it's by avoiding single-use plastic packaging only, targeting the "Top 4" (plastic bags, plastic bottles, single-use plastic straws, and coffee cups), or aiming to go completely plastic-free. The best part is, you don't have to make these changes on your own! There are ways for participants to not only get involved on an individual level, but also use this event as an opportunity to collaborate with others at the workplace, at school, and in any other way they choose.
In case you still haven't been convinced to take part in the Plastic Free July movement, let's discuss how participation in this effort can also benefit your business. In 2017, only 8.4 percent of plastic was recycled, and landfills received 26.8 million tons of plastic. This in large part is due to—you guessed it—single-use plastics. This is because single-use plastics are very difficult to recycle, and take hundreds of years to decompose. As a result, the majority of plastic that has ever been generated, sadly still exists in our natural environment today. See below for a quick illustration of decomposition times for certain materials, including plastic bottles. plastic bags, and Styrofoam, which we highlighted in a previous blog: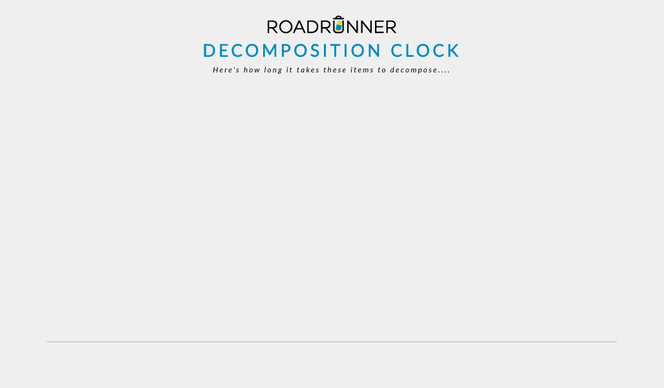 Businesses that use, manufacture, or sell plastic play an undeniable role in the inception and growth of the plastic pollution problem. By choosing to be part of the solution, companies have the power to contribute to slowing down the exponential growth of waste. Taking part in movements like Plastic Free July is a simple way to get the ball rolling for your organization in better understanding internal waste habits, recognizing opportunities for change, finding alternatives to plastic that, hopefully, enact change. Again, changing plastic habits not only benefits the plastic-free movement and reduces harmful waste, but is also good for business. Companies that participate in making these changes often experience increased sustainability, cost savings, reduced waste disposal costs, and improved brand image. Below, we are sharing tips that your establishment can incorporate to help make a lasting impact on your business, the environment, and beyond!
Get Involved: Tips for Making a Lasting Impact
Rethink individual habits
Using plastic has become so integral to most people's daily lives that many individuals and organizations don't realize how much of it they actually use. Taking part in the Plastic Free July as a workplace is a great way to encourage company-wide participation, collaboration, and motivation.
If you're looking for ways to encourage participation for the event, friendly-competition can act as a significant driver of morale and performance across an organization. Consider creating teams by department (or whatever categorization makes sense for your workplace) and award prizes to the team that reduces the most plastic waste. Or, come up with your own motivational ideas, like rewarding those who pack a zero-waste lunch for a week.
And, these tips aren't just speculation—RoadRunner is applying them to its event approach too. This year, Plastic Free July provides an opportunity for our company r to take an active part in reducing its plastic footprint and challenge ourselves to do better on an individual level while contributing to a healthier business, community, and planet! Starting on July 1st, members of the RoadRunner team will begin sharing videos containing plastic facts, as well as tips for reducing it in our everyday lives. We are also encouraging the team to complete as many "Plastic Reduction Challenges" as possible. A few challenges include using a reusable bag, purchasing a reusable coffee mug, and ditching single-use silverware. After completing the challenge, employees are encouraged to share their results and what they learned from their participation with the organization. Feel free to use and share the below graphic we created as a reminder and motivator for your team to participate alongside us!
Target The Top Four
Did you know that it's been estimated the amount of plastic in the ocean will outweigh the amount of fish by 2050? If that prediction is as shocking to you as it was to us, then you're not alone and may also be looking for a way to take action. A great place to start is by tackling the elimination of "top four": single-use plastic straws, takeaway coffee cups, grocery bags, and plastic water bottles. These four plastics are some of the biggest polluters on our beaches. Still, the good news is, they can be easily replaced with reusable alternatives. Let's look at how much plastic the average person could reduce by choosing reusable alternatives:
One reusable metal straw could replace 540 disposable plastic straws per year
Using one reusable coffee cup can replace 500 disposable cups per year
One reusable shopping bag could replace 170 plastic grocery bags per year
Using one reusable water bottle for an entire year can save the average person 167 plastic bottles
Luckily, making these changes is likely simpler than you think! Many organizations have found success in supplying reusable alternatives to their employees, learning that it not only helps them reduce their environmental footprint but also helps save money too! Take a look at the impact RoadRunner was able to make by switching to reusable mugs and water bottles:

For additional ideas, click here for more single-use plastic replacements.
Study your trash
Now that you understand how easy and effective replacing the top four can be, you may be eager to start reducing other plastics too. The Plastic Free Foundation suggests completing a waste audit to assess what waste could be avoided as well as habits to encourage that improve recycling rates. The audit will likely also reveal opportunities for developing new recycling streams, or removing materials from the waste stream completely. For example, if your audit discloses a bunch of disposable coffee pods in your company's waste, simply choosing to switch to a reusable coffee pod or a drip coffee machine could help save hundreds of plastic pods from reaching landfills every year. Once completed, bring the audit's findings to your procurement, or sustainability, team and discuss how best to replace some of your largest single-use plastic contributors.
Inspire others to act
Plastic Free July is not about cutting plastic out completely, but more so about recognizing the sweeping changes we can make as a society, as businesses, and as individuals, to change our habits in a way that reduces plastic and avoids unnecessary polluters in our everyday lives. Due to the increasing amount of plastic entering our ocean and environment, innumerable effects detrimental to the earth's health are mounting. As major plastic contributors, many businesses have the responsibility and opportunity to better prioritize alternatives to traditional methods of operating. One of the best ways to encourage others to get involved is by spreading the word! Kick-off your new program by sending out a company-wide memo or announcement that communicates your commitment to Plastic Free July. Also, try leveraging social media to encourage your audience members to get involved too. Communicating your plastic goals not only helps motivate your employees, but is also a great opportunity to inspire others outside your organization to take the pledge! By using social media, participants can also connect, share resources with others, and pick-up more tips for going plastic-free this month and in the future!
We hope this blog post has inspired you to reduce plastic this month and beyond! It's amazing how big of an impact organizations can make by committing to even small acts of reducing plastic waste. It's likely that once you start shifting smaller habits, they will continue to make an impact long after July is over. If you're looking for more ways to make a difference, share this resource with your colleagues who are eager to get involved. To learn more about Plastic Free July, visit this website, and follow us on social media to stay up-to-date with RoadRunner's Plastic Free July journey! Bonus points: Tag @roadrunner_recycling in any of your plastic-free updates so we can see how you're participating!
Be sure at the end of the month to look out for a new blog post recapping RoadRunner's experience with Plastic Free July for our organizational learnings and results!