Over the course of this month, millions of people around the world participated in the Plastic Free July challenge—a global movement that aims to reduce plastic use and improve recycling. In an attempt to reduce our plastic intake and support this movement, the RoadRunner team joined in on this challenge to go (mostly) plastic-free! According to a 2017 article in The Atlantic, there was more plastic made in the past 13 years than there was in the previous half-century. And, a shocking 91 percent of plastic is still not recycled, resulting in most of it in landfill or strewn throughout the environment.
For the above reasons as well as RoadRunner's interest in supporting and improving our workplace, our community, and our planet, we wanted to do our part in becoming more conscious of plastic usage in our everyday lives. By accepting the Plastic Free July challenge, our team sought to reduce plastic wherever possible in our homes and work spaces. And, we dedicated ourselves to tracking individual progress to share tips and learnings with others to help anyone attempting to go plastic free.
We understand that even for the most sustainable person, it can sometimes feel impossible to use less of a material that is so deeply ingrained in many of our habits and processes. But, we also discovered that's the beauty of the plastic-free movement: Participants can take on the challenge in a number of different ways, which allows each of us to gain perspective using varying methods and take iterative steps to reduce plastic gradually. Read on below as we recap the goals of Plastic Free July, how RoadRunner participated as an organization in this challenge, what we learned from members of our team on their plastic-free journey, and the tips we picked up that can help your organization reduce plastics too!
What to know about Plastic Free July
As mentioned above, the rate at which we consume plastics has become unmanageable to say the least. Since production took off in the 1950s, the amount of plastic produced has doubled every 15 years. In fact, research published in the Science Advances journal found that the annual global production of plastic resins and fibers has increased from two million tonnes in 1950 to more than 400 million tonnes in 2015.
Given this meteoric rise in production and the integration of plastics into many of the products and services we use today, recycling facilities have struggled to keep up with the massive amounts of plastic waste while plastic manufacturers have failed to make their processes more sustainable. Again, as a consequence, the vast majority of plastic still ends up in landfill and throughout the environment.
To help combat these issues, the Plastic Free Foundation, since its start in 2011, has provided resources and ideas to help individuals reduce their single-use plastic waste in everyday settings like home, work, or school. According to the organization's website, "Plastic Free July is a global movement that helps millions of people be part of the solution to plastic pollution–so we can have cleaner streets, oceans, and beautiful communities."

When attempting to tackle a problem this massive, it can feel overwhelming at times to cultivate change, but with the help of organizations like the Plastic Free Foundation, the practice can become less daunting. Familiarizing yourself with the scale of the plastic waste issue, evaluating your plastic usage habits, and identifying small areas in which you can make changes are some excellent steps you can take to get started on a plastic-free journey. Even though July ends in just a few days, there are still many ways to make a difference that can last long beyond this month and can help cultivate a cleaner, plastic-free future. Keep following along for some tips that our fellow colleagues learned as they challenged themselves to go plastic free!
What did we learn from Plastic Free July?
We've said it before: Properly managing your materials, especially the exponential growth of plastic waste, can often feel time-consuming and daunting. However, as a result of this challenge, many of us at RoadRunner found that reducing plastic in our everyday lives and becoming responsible consumers was easier than expected. With the help of the Plastic Free Foundation's educational materials, RoadRunner's cultural ambassadors created resources and tips to help our organization become part of the solution to plastic pollution. We ultimately realized that this event isn't about cutting out plastic entirely from our lives, but recognizing that small changes can have a significant impact in driving change over the long-term.
"RoadRunner's Plastic Free July initiative cleared up any of my misconceptions that acting in an environmentally-friendly way would be a hassle," said Bryan Riano, Sales Operations Trainer of RoadRunner Recycling. "Taking the simple responsibility of not using or buying plastic cutlery, not cluttering a kitchen cupboard with plastic shopping bags (and instead using a reusable bag), or simply utilizing a reusable straw, helped me realize all small ways that I, and everyone else, can help reduce plastic and protect the planet. For myself, these practices won't be limited to this month and are easy to implement well beyond July!"
At the beginning of this month, and in addition to written feedback as part of this challenge, our ambassadors began sharing videos containing plastic facts as well as tips related to reducing plastic.
To inspire some friendly competition, employees were also encouraged to complete as many of our "plastic reduction challenges" as they could (pictured below) for a chance to win prizes and to be featured on our social media channels. Members were encouraged to complete at least five of the plastic reduction challenges to qualify for a prize.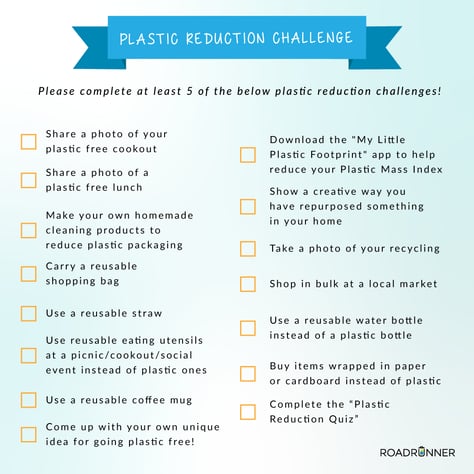 (Bonus: Feel free to download this image below to encourage your organization to get involved in going plastic free!)
To keep track of their efforts, employees were also asked to post a photo or video of themselves completing the task and answer the following questions in our #plasticfree Slack channel that was created for the challenge: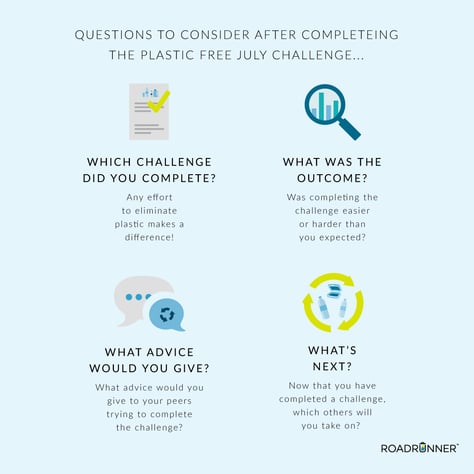 Right away, people began sharing their completed plastic-free challenges: switching from common plastic containers to reusable water bottles, coffee mugs, coffee pods, and grocery bags as well as replacing common plastic goods with bamboo cutlery, stainless steel straws, and even a garden to eliminate the need for plastic packaging from grocery stores. Not only did the team use our Slack channel to share their challenges, but they also encouraged each other by sharing advice, tips for reducing plastic, and helpful videos and articles to make the process easier!
Courtney DeVita, RoadRunner's Staff Accountant, explains, "Before Plastic Free July I always tried to be aware of the plastic used in my household. Plastic Free July showed me more ways to cut it out from my everyday use." She continued, "It was challenging because you do not realize how many everyday activities can affect the planet negatively. However, I feel that Plastic Free July taught me so many new ways to cut my plastic consumption and I am very thankful for that opportunity!"
How to make a lasting impact on reducing plastic
Plastic Free July may be ending in a few days, but that doesn't mean we should stop reducing our plastic consumption or encouraging our friends, family, and coworkers to do the same. By choosing to be part of the solution, and assisting employees in getting involved, companies have the power to contribute significantly to combating plastic waste. Making conscious efforts towards going plastic-free is an effective way to help your organization realize internal waste habits, recognize opportunities for transformation, and find alternatives to plastic that contribute to a better future. Companies that participate in efforts like these not only positively impact the environment, but also help the organization itself—often experiencing improved sustainability, cost savings, reduced waste disposal costs, and improved brand image.

Hear from RoadRunner cultural ambassador, Jessica, as she shares tips for how to reduce plastic bags in everyday life!
If you're looking for how best to make a difference, remember, there are several ways to participate in reducing plastic that can make a lasting impact! As you start on your plastic-free journey, remember that you don't have to go completely plastic-free right away. Taking some time to understand your individual, or corporation's, plastic consumption is a great first step when trying to incorporate new habits. For a full run-down on actions you can take for getting started, check out our previous Plastic Free July post, otherwise, take a look at some quick tips below:
Rethink individual habits
Evaluate your plastic consumption, and where plastic can be reduced in your everyday life
Target the top four
Focus on tackling the elimination of the "top four" plastic polluters: plastic straws, takeaway coffee cups, grocery bags, and water bottles

Study your trash
Completing a waste audit to assess what materials could be avoided altogether or better disposed of can help encourage a smarter waste program and, even improve recycling rates
Inspire others to act
Communicating your plastic goals not only helps motivate your employees to be more sustainable, but is also a great opportunity to inspire others outside your organization to be part of the change
#plasticfree Ideas from the RoadRunner Team

We hope this blog post has inspired you to get into the plastic-free spirit, whether you choose to go entirely plastic-free, or start small. Please enjoy the photos above featuring some challenges our team participated in this month! If you're looking for more ways to make a difference, share this resource with your coworkers who are interested in making a sustainable impact.
To learn more about Plastic Free July visit the foundation's website. And, don't forget to follow our social media channels for ways to continue your plastic-free journey and to see how we're closing out Plastic Free July at RoadRunner! A reminder, as well, that many of these tips can be used long after the month is over, so don't hesitate to share with us in the comments or on social how your organization is making changes too.
If you're interested in working with a dedicated service provider who can implement plans for a successful recycling program, schedule a free consultation with us here!