With a desire to be more environmentally friendly, there's been a push to change how we package things. The COVID-19 pandemic also created record demand for deliveries as online and mobile shopping became an even more dominant force. These factors led to a changing landscape when it comes to packaging.
Here are eight great sustainable options for packaging materials and five you'll want to avoid.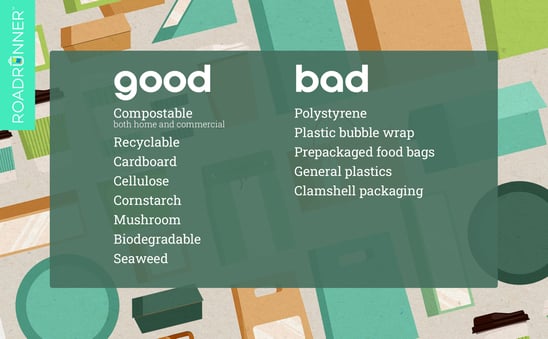 Good:
Compostable both home and commercial
Recyclable
Cardboard
Cellulose
Cornstarch
Mushroom
Biodegradable
Seaweed
Bad:
Polystyrene
Plastic bubble wrap
Prepackaged food bags
General plastics
Clamshell packaging
We already know many of the issues some of the "bad list" cause for the environment. Polystyrene, what many of us call Styrofoam™, is nearly unrecyclable. Plastic packaging is floating around the ocean in massive amounts, and small pieces are found inside human tissues. Prepackaged food bags for chips and crackers contain a blend of aluminum and plastic that are inseparable at most recycling facilities. These are just a few reasons your business should avoid these options for packaging.
eight great options for your business packaging
Packaging products that individual businesses or commercial composting facilities can compost are the ultimate for sustainability. These products can break down into nutrient-rich soil for flower gardens, vegetable plots, and lawn spaces. Compostable materials' end-of-life cycle helps promote new life in a circular system.
Recyclable packaging is also a terrific option for your business. These save raw materials, reduce greenhouse gasses, and require less manufacturing energy. Recyclable packaging contributes to circularity by utilizing raw materials that can be used again.
Cardboard is one of the most recycled materials out there. The material biodegrades in just a few short months. Sustainably sourced timber also makes some cardboard even better options. Cardboard is cheaper than plastic, takes up less space for your business, and is another step in meeting your business's sustainability goals.
Cellulose packaging includes plenty of environmental benefits over something like plastic. Plants are harvested to create cellulose providing a sustainable product. Some cellulose packaging options are resistant to heat, moisture, and oils. They're also biodegradable and compostable.
The food industry is cooking up ways to use packaging made from cornstarch. It's a new material, and there's little infrastructure surrounding its manufacture and disposal. Despite that, recent products are food safe, can block smells effectively, and they've shown resistance to fats and oils without special coatings.
Mushroom or fungi packaging, which is biodegradable, can replace something like polystyrene. Polystyrene can be hard to recycle or can't be recycled at all. Mushroom packaging on the other hand breaks down in a matter of weeks.
As we've said, choosing biodegradable options for your business is choosing sustainability. These packaging options are made from recycled materials and break down safely in the environment. Biodegradable packaging also reduces the number of materials consumed.
There's another sustainable, biodegradable, and edible option: seaweed. Certain seaweed packaging products can even dissolve in water. If your business features a garden, lawn area, or landscaping, seaweed packaging can be added to the soil in those spots helping plants grow. A great option for restaurants.
Choosing a sustainable packaging option that fits your business's needs doesn't have to be difficult. Choosing something beneficial to the environment saves money and attracts more customers. A survey of Millenials found nearly 30% were concerned about climate change. Across the world, 85% of consumers said they've adjusted their spending habits to choose more sustainable options.
Choosing packaging that can be composted, recycled, or made from sustainable materials is a decision that is good for the environment and good for your business.
Let the power of RoadRunner's green technology go to work for you!