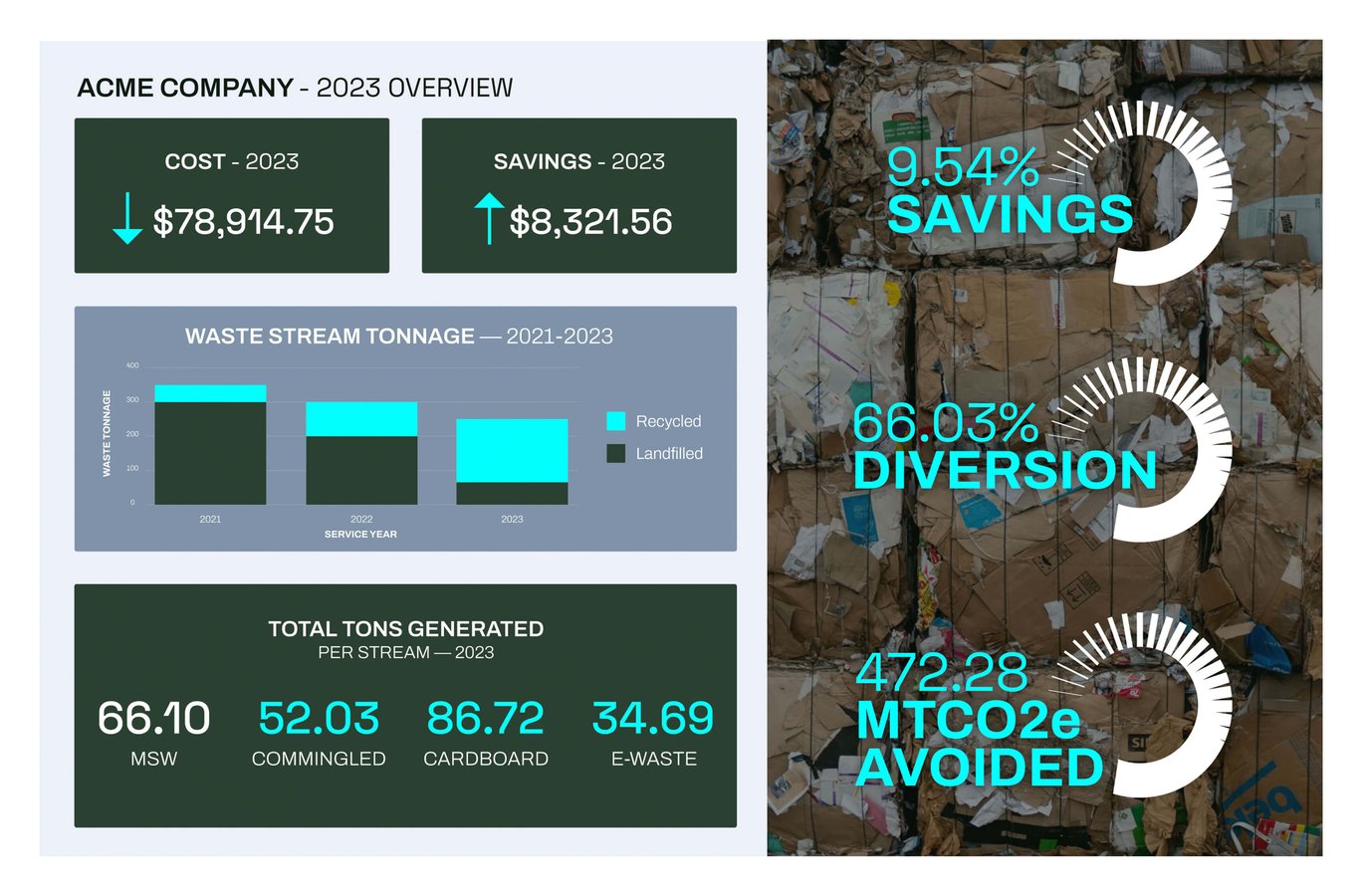 Science-based ESG Reporting
Data-driven sustainability reporting to measure your environmental impact
You can't manage what you don't measure. Tonnage + Impact Reporting gives businesses like yours the ability to benchmark successes and set roadmaps to better achieve Zero Waste to landfill and carbon emissions reduction using accurate, reliable data sources.
HOW WE TACKLE THE CHALLENGES OF DIVERSION AND SCOPE 3 REPORTING
Step 1
SET Sustainability REPORTING FRAMEWORK
CHALLENGES
Lack of clarity on which framework(s) to use
Dealing with expensive third-party consultants
ROADRUNNER'S SOLUTIONS
We use EPA Metric Conversions and WARM Equivalencies to process tonnage and impact calculations
ESG Reporting Standards: We use Universal Standards and the GRI Material Topics 3 Framework for customer disclosure criteria
Step 2
COLLECT RELIABLE DATA
CHALLENGES
Insufficient adherence to sustainability reporting standards
Lack of data transparency from haulers
Difficulty scaling data collection
Difficulty standardizing data collection for tonnage reports and impact reports such as greenhouse gas reporting and emissions tracking


ROADRUNNER'S SOLUTIONS
Our proprietary Waste MeteringTM technology collects reliable data across each location in your portfolio for accurate waste reporting.
Our vetted network of preferred haulers enables better hauler transparency
Step 3
CONSOLIDATE + REPORT
CHALLENGES
Lack of a centralized operating platform for data storage, analysis and sustainability reporting
Difficulty consolidating thousands of service transactions with a variety of units of measurement and varying calculation and verification methods
ROADRUNNER'S SOLUTIONS
We use proprietary technology to organize, review, and standardize large volumes of data that adhere to ESG report requirements
We deliver location-level or organization-wide corporate sustainability reporting on the cadence that best fits your business needs
Compliant-ready Reports: Material Tonnage, Waste Diversion, GHG Impact and more
Speak to our ESG Advisors
Let's talk about your business needs and how to accelerate your road to Zero Waste.