If there's one thing we know for sure, it's that recycling can be confusing by nature. With a number of rules, bins, materials, and codes to sift through, correctly recycling can be a more involved process than it seems. Additionally, the lack of education around recycling often results in individuals sending the majority of their waste to landfills instead of taking the time to understand what can be separated out for reuse or recycling.
Unfortunately, this behavior has consequences that will impact our environment for years to come—The most obvious being the length of time it takes certain materials to decompose in a landfill. Perhaps it's easier to throw everything into the garbage when you don't realize how many years it takes to break down, but we're here to dispel any myths about what actually happens when you throw something away.
Below, we've created a helpful visualization to understand the decomposition times of items frequently sent to landfills. Read on for more information, share the graphic with your colleagues, and don't hesitate to reach out to see how RoadRunner can help improve your recycling rates.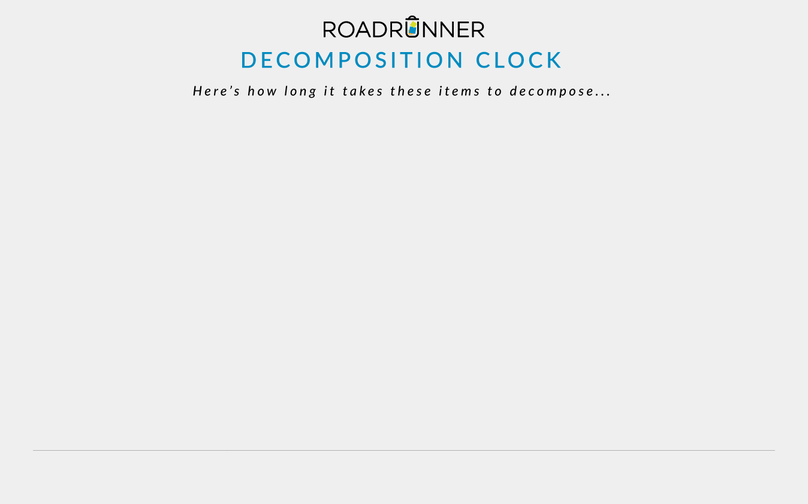 How Long Does It Take For Waste To Decompose?
LEATHER SHOES
Decomposes in 40 Years
An estimated 300 million pairs of shoes are thrown away every year. Leather shoes are specifically problematic in landfills because of the harmful chemicals used during the tanning process.
BATTERIES
Decomposes in 100 Years
Batteries break down very slowly, and as they decompose, harmful chemicals and toxins are released into our soil and water. Batteries should be collected separate from standard waste and recycling.
ALUMINUM CANS
Decomposes in 250 Years
Aluminum cans can be recycled and be back on the shelf in as little as 6 weeks but takes around 250 years to decompose. Fun fact: Aluminum is the most recyclable material!
PLASTIC BOTTLES
Decomposes in 450 Years
It's estimated that more than 80% of all single-use water bottles in the United States become "litter." Thus, about 2 million tons of water bottles are in landfill.
DISPOSABLE DIAPERS
Decomposes in 450 Years
The EPA reports that 20 billion disposable diapers are sent to landfill every year, and they do not decompose very well.
PLASTIC BAGS
Decomposes in 1000 Years
Along with the lengthy decomposition time, plastic bags are very troublesome because they are very difficult to recycle. Most plastic bags are either in landfill or polluting the environment.
GLASS
Decomposes in 1 Million Years
Glass is very resilient and takes a very long time to break down, if ever. Glass usually doesn't decompose completely but breaks down into smaller pieces.
STYROFOAM
Never Decomposes
Styrofoam is 95% air and light weight, making it ideal for single-use packaging but very difficult to break down or recycle. As a result, Styrofoam never decomposes and stays in landfill forever.
We hope that learning about the life-span of these materials has inspired your business to recycle and dispose of your materials correctly! If you are interested in learning more about RoadRunner's waste and recycling services and how we can help your business spend less, feel free to get in touch with us for more information.