You may have heard that Google recently announced its goal of working towards operating with carbon-free energy by 2030. The tech giant also reports that as of September, it has purchased enough carbon offsets to cancel out all of the CO2 emissions the company has released into the environment since Larry Page and Sergey Brin founded the company in 1998. At this point in history, as wildfires spread across the west coast, global temperatures rise, and more species risk extinction, there has seemingly never been a better time than the present for the company to announce its progressive, environmental commitments and victories.
As a business owner or manager, you likely understand that acting on climate change is critical, but you may also not know where to start or worry that you do not have the time, resources, or influence to take action. Even so, with inspiration from global organizations like Google, and practical steps that suit your company, businesses of all types and sizes can address climate issues and help remove carbon from the atmosphere. To explain how, in this post we summarize Google's initiative, how the company plans to act on climate change, and key takeaways businesses can use to better integrate climate-oriented action into their everyday practices. Continue reading for more information.
Google's Push Towards Carbon-Free Energy
Sundar Pichai, Google's CEO, wrote in a recent blog post, "The science is clear: The world must act now if we're going to avert the worst consequences of climate change." While this may seem like a strong statement, it's apparent that the company has rarely shied away from environmental stewardship in the past. In 2018, Google achieved its twelfth year of carbon neutrality and for the second year in a row, matched 100 percent of the electricity consumption of its global operations with renewable energy. According to the company, since 2007, it has also partnered with more than 40 carbon offset projects to counteract more than 19 million metric tons of carbon dioxide equivalent. However, in its third decade of climate action, Google plans to do much more; here's how:
Pichai reports the tech giant has already eliminated its entire carbon legacy by purchasing high-quality carbon offsets through actions such as planting trees

By 2030, Google, the first company set out to achieve this type of goal, plans to be operating on carbon-free energy sources like wind and solar power, 24 hours a day

Pichai explains, "This will mean every email you send through Gmail, every question you ask Google Search, every YouTube video you watch, and every route you take using Google Maps, is supplied by clean energy every hour of every day."

The tech giant will invest $5 billion in 5 gigawatts of new carbon-free energy, helping Google to avoid the number of emissions equal to taking more than one million cars off the road each year and create more than 8,000 clean energy jobs.
Google will help 500 cities reduce 1 gigaton of carbon emissions, each year, through planning tools such as Environmental Insight Explorer.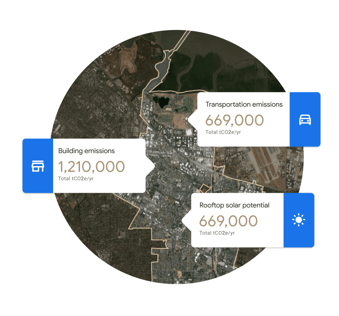 The company will offer its partners and other global organizations—including hospitals, airports, and commercial buildings—access to machine learning tools to reduce the energy used for heating and cooling

Lastly, its products will help one billion people make sustainable choices by 2022
✅ As of today, we're proud to announce that we have eliminated Google's carbon legacy.
🌱 Looking to the future, we aim to operate on 24/7 carbon-free energy in all of our data centers & campuses worldwide. Read more about our most ambitious decade yet → https://t.co/K67349QR3g pic.twitter.com/rFFUMvKQya

— Google (@Google) September 14, 2020
What Can We Learn from Google?
Achieving the goals listed above will be no small feat for Google. Having said that, the tech company has been dubbed a "trendsetter" for climate action and many companies are likely to follow suit. "The problem is so immense, many of us need to lead the way and show solutions," Pichai said. "We're one small player in this, but we can set an example."
Despite that, when some businesses see Google's initiatives, they believe their size or absence of resources prohibits them from making an impact. However, every business, no matter how big or small, can take small steps in prioritizing the fight against climate change. In fact, small corporations represent 99.9 percent of businesses in the U.S., and all companies, collectively have the opportunity to participate in stopping climate change and in making a lasting impact for the planet and its future!
In addition to bettering the environment, we will likely see organizations that make climate change a priority have a competitive advantage over those who ignore the environment. In fact, 85 percent of retailers reported increased sales of sustainable products over the past five years, proving that consumers want to purchase more sustainable products.
Below are a few examples of small to medium-sized businesses successfully making climate action a priority:
4 Key Takeaways & Tips
At RoadRunner, we understand that our waste stream and recycling services only play one part in a company's ability to make a real impact on the climate. For this reason, we want to provide businesses with additional resources for combating climate change, in addition to improving waste & recycling programs, that can benefit their bottom line and the environment. With this in mind, here are some simple ways businesses can take action that lead to environmental benefits:
Set ambitious goals
As a society, we must act now to prevent irreversible damages from climate change. To explain why, in 2017, General Assembly President María Fernanda Espinosa Garcés (Ecuador) warned that only 11 years remained for humans to take action. Businesses and people alike must begin by setting ambitious goals with sustainability top of mind in order to make a difference.
Realizing the urgent need to act now, many businesses, including Google, have set goals to commit to tackling this global issue. While Google has developed one of the most progressive climate pledges, enterprises can start building sustainability into their initiatives by developing and prioritizing an action plan. Whether it plans to ban single-use plastics by the end of the decade, divert waste from landfill and increase recycling rates, or transition towards a circular economy by 2021, setting goals and working to achieve them within a desired time frame can help a business measure its progress and revise initiatives as needed to reach set targets.
Motivate consumers to act sustainably
Aside from helping the environment, many brands have found that selling sustainable products increases customer support and ongoing loyalty. A recent study discovered that 65-70 percent of consumers under 35-years-old prefer brands based on ethical practices and transparency. By providing consumers with the ability to purchase sustainable products, it enables them to feel as though they are "sustainable consumers" and can live a more environmentally-conscious lifestyle. In return, these customers often begin pressuring other companies to operate this way and sharing their support of sustainable organizations with peers that have purchasing power.
Google is launching initiatives to help organizations reduce their footprint and overall impact on the environment while at the same time helping people around the world act with sustainability top of mind. The company aims to help one billion people make sustainable choices by 2022, whether that's through using Google Maps to find electric charging stations or using Google Flights to sort and filter trips by the least carbon-intensive flights.
Invest in Corporate Social Responsibility
Enterprises, no matter how small, have the power and influence to take on a variety of environmental issues. Corporate Social Responsibility (CSR), a business model whereby companies factor social causes, communities, and environmental best practices into their business operations, can enable companies to apply their expertise and help the planet. Furthermore, consumers prefer businesses that support CSR. A Forbes article reports that 87 percent of consumers will have a more positive image of a company that supports social and environmental issues.
Google's CSR goals for the upcoming decade include supporting more than 500 cities to reduce one gigaton of carbon emissions, creating over 12,000 jobs, and giving more than $5 billion towards clean energy investments. The organization explains, "We're optimistic that by harnessing new technologies, investing in the right infrastructure and tools, and empowering partners, nonprofits and people, this can be the most decisive decade for climate action yet." Your business may want to start smaller, but any action that helps your society, community, and environment can contribute to making a huge difference in the long run.
To help communities across the US being impacted by wildfires, we've issued $1M in grants and were joined by Googlers donating to support relief efforts. To learn more or donate if you're able, check out the links below ↓https://t.co/I7zNBRksBA

— Google.org (@Googleorg) September 18, 2020
Become a catalyst for change
Google says it will become the first company to run entirely on carbon-free energy across all its operations worldwide. To some, setting ambitious goals, or creating lasting change, may sound overwhelming or nearly impossible, but taking that first step is sometimes all that is needed to cultivate change. By integrating the tips mentioned above into your business, along with any of your own sustainability ideas, you will likely be surprised at the difference your business can make in a short amount of time. Indeed, many employees look up to the head of organizations to lead by example. A recent study stated that 88 percent of Millennials say their job is more fulfilling when provided with opportunities to make a positive impact on social and environmental issues. Simply offering employees, or customers, the ability to choose reusable mugs over sustainable ones, or implementing an effective recycling program to help them properly dispose of their waste, is a significant first step in the right direction. For help implementing a recycling program proven to decrease waste to landfill, reach out to RoadRunner for a customized plan to help your business get started and succeed with recycling.
FINAL THOUGHTS
Just like Google, we expect to see more companies normalize the integration of tactics to fight climate change into their business practices now and in the coming years. Additionally, we hope by reading this post, your business feels inspired to take action with useful tips that can be leveraged to be the solution our planet so desperately needs. For additional resources and help getting started, check out some of our other resources related to this topic: How to Reduce the Carbon Footprint of Your Business, What is a Circular Economy?, and 7 Tips to Appeal to the Eco-Conscious Consumer. Thanks, as always, for reading our Waste Watchers Blog and tune in next week for more!