Hospitals large and small output an incredible amount of waste and by-products everyday, equivalent to that of a small town. In fact, American hospitals generate nearly 6,600 tons of waste everyday. The wide range of services they provide means the materials they generate vary from cardboard and mixed paper, newspapers, magazines, glass, plastic bottles, and medical & hazardous waste. Many hospitals have found that reducing and recycling their solid waste has preserved the health of their patients, their communities, and the planet. Read on to learn how hospitals are reducing their environmental footprint by reducing waste.
Hospitals requires a lot of supplies
American hospitals produce an average of 5.9 million tons of waste per year. Practice Greenhealth, an organization who provides environmental solutions for the health care industry, estimates that 29 pounds of waste is created per staffed bed every day.
You might be wondering, how do the large volumes of waste affect the environment? An article from Healthcare Finance reports that "hospitals are the second greatest commercial energy user behind commercial food services, according to advocacy group Practice GreenHealth, emitting roughly 8 percent of the country's greenhouse gas emissions." Waste is a large part of a hospitals environmental impact, and environmental pollution has a negative effect on human health.
The good news is, the majority of hospital waste is solid, non-regulated waste, meaning it can be recycled. The World Health Organization estimates that 85% of total waste created is general, non-hazardous waste, and only 15% is considered hazardous material.
A Breakdown of Hospital's Solid Waste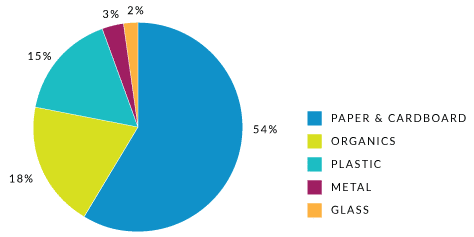 A hospitals solid waste is broken down into the follow streams: 54% is comprised of paper and cardboard, 18% organics, 15% plastics, 3% metal, and 2% glass. Managing these large volumes of solid waste and establishing recycling programs for each of them can save hospitals thousands of dollars, divert valuable resources from landfill, and reduce the health-risks associated with landfill pollution.
How Are Hospitals Reducing Waste?
Health Care Without Harm, an organization whose mission is to transform the healthcare industry without compromising patient safety or care claims, "The majority of waste from health care facilities is surprisingly similar to that of an office building or hotel — paper, cardboard and food waste." Hospitals have begun pinpointing where waste is an issue and finding ways to minimize that waste.
Many sources claim that paper and cardboard make up over half of hospital waste. Hospitals are implementing strategies to reduce waste before it's created by buying in bulk to reduce packaging and going paperless by switching to digital platforms. When cardboard and paper is produced, hospitals are responsibly recycling these materials along with other recyclable materials to significantly reduce the amount of waste sent to landfill.
They are also looking at composting as an opportunity to minimize food waste. The EPA estimates that U.S. hospitals generate about 170,000 tons of food waste annually, making up a large portion of their solid-waste. Food recovery programs like composting is a great way to reduce waste from food loss and divert the scraps out of the waste-stream.
Hospitals are also looking at specific locations in which waste is generated, including Operating Rooms and patient rooms. Operating Rooms are responsible for creating 20-30% of total hospital waste. Many facilities are exploring more sustainable options including reducing single-use items and making smarter purchasing decisions to cut back on waste in these locations.
Hospitals who work on reducing their impact have the opportunity to reduce costs, reduce pollution, and conserve the health patients and their communities. If you're looking to join many of the hospitals in the U.S. who are improving their waste diversion or if your hospital already recycles, let us know in the comment section below! Thanks for stopping by.