From mountains of cans to piles of pizza boxes, colleges and universities stand to play an important role when it comes to managing waste. Campuses are unique in that their waste management plans can change with the seasons. They're a hive of activity one month, and then once the semester ends it can be nearly empty. Universities can serve as a model to the community on how to manage waste in an ever-changing landscape.
With autumn around the corner and students back to rushing between classes, now is the perfect time for higher education to take an in-depth look at waste management.
CLICK HERE to see how RoadRunner can work for your school, college, or university!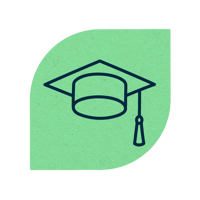 Why higher education is a great place to start
The large student populations, ongoing research, development of new technologies, and presence in the community make colleges and universities an ideal place to find better ways to dispose of and recycle waste. These facilities are educating the leaders of tomorrow. Labs on campus are ripe for studies into better waste management ideas. Many conservation focused groups already have chapters and clubs at schools, such as the Sierra Club, Net Impact, and the World Wildlife Fund. What better place in which to emphasize being good stewards of the environment than a college or university?
Additionally, many institutions have responded to the younger generations' desires to have a greater hand in fighting climate change. Younger generations, mostly Millenials and Gen Z, have reported a deeper sense of responsibility when it comes to fighting climate change. The vast majority of college students fall into those demographic groups. To connect with this, many institutions have added new classes and degrees to fill jobs in the sustainability arena. These places are already working to meet the needs of students related to environmental issues.
Despite the university environment being a prime spot for advancing waste management, there are hurdles many campuses have to overcome.
3 waste challenges for colleges and universities

1. Summer Breaks
Instead of the campus being a bustling place, the summers can be a ghost town for many schools. If there are no camps or courses taking place, that means there is virtually nobody on campus. Buildings can sit idle and unused. Long holiday breaks in the winter can also have a similar effect.
However, the trash pickups don't stop just because of a lack of students. Many facilities can go from large volumes of waste in the spring to a fraction of the weight in just a month or two. And those places are still paying for the same service.
Conducting a waste audit will give a better understanding of the types of waste that are being discarded, the volumes that are being generated, and the slower times of year. Armed with this information, campus leaders can work with their hauler(s) to find the best possible price and solution.

2. End of semester move out
We've all seen the images of mountains of trash, gently used furniture, and clothing piled up outside residence halls. Contrary to the summer break, this is a time of year that the campus generates a massive volume of waste. Large dumpsters are needed to accommodate the couches and futons students are throwing out. Bulk pickups are required for the universities to keep everything as clean as possible.
This is an opportunity for many schools to fully embrace reusing, recycling, and donating. Instead of simply throwing out a gently used chair, a college could implement a program in which it gets donated to students or others in the community in need. Unwanted or broken items can be used as raw materials for art projects. A yard sale-type of event could raise money to be put toward campus sustainability initiatives. Bedding and clothes can be reused as inexpensive Halloween, holiday, or party costumes. They can also be donated to the arts department or campus maintenance to be used as drop cloths. Merging creativity and thinking outside the box can yield a long list of ideas. This not only diverts items away from the landfill, but it would also give the university a chance to work toward implementing sustainable goals. Diversion and recycling in turn create more potential marketing opportunities for prospective students.
Finding ways to reduce what's being thrown in the dumpster also helps cut down on the weight for these pickups. Many landfills charge a tipping fee based on the weight of the load. The less there is to dump at the landfill, the less it will cost. Recycling can also reduce charges for extra pickups. The upside potential for this is huge.

3. Waste and recycling contamination
Any comprehensive waste management plan has to include collection points right where waste is generated, including dorms and residence halls. The challenge here is contamination.
It takes buy-in from the people living there. The recyclable materials aren't going to go into the recycling bins themselves. The soiled takeout containers likewise won't make it to the trash cans themselves either. While many young people are already environmentally conscious, reminding them why it's important to put the correct items in the correct bin can yield dividends.
A waste audit also comes into play here. Finding out what's working and what isn't means solutions can then be created to reduce contamination:
• Where are the bins located?
•. Are they properly marked?
•. Is there a better location for a recycling collection point?
A thorough waste audit can help answer those questions.
Lastly, a complete waste plan shouldn't be a makeshift operation. It needs to be thoughtful and it needs to be consciously incorporated into the design and structure of facilities. Waste plans need to be part of new construction and rehabilitation plans in order to work as effectively as possible.
Managing waste in a better way is not an easy task for many colleges and universities. Some campuses are so large, they're cities unto themselves. Despite the challenges, these institutions are one of the best places suited to become a model for sustainability. It's almost a perfect storm of between the desire of younger people to have a hand in protecting the environment and the university's mission to educate.
RoadRunner's clients already include campuses large and small. We're working every day to help these institutions find a better way to deal with their waste and recycling because our missions align. Find out how RoadRunner's dedicated team and easy-to-understand process can save money for your university. We create customized solutions that work for you when you need them the most.
CLICK HERE to see how RoadRunner can work for your business!