Like the news cycle itself, the waste and recycling management industry never sleeps. Confronted with unique problems and emerging innovation to fix them, the talk of the waste world might seem foreign to the average business owner.
Luckily, with a decade in the space, talking trash has become RoadRunner's forte. We believe waste management should be easy and accessible—so we distill the complex into simple, easy-to-understand articles and guides.
From environmentalism to sustainability to the inside track on cutting operational costs, RoadRunner has a broad library of resources for improving your knowledge base, as well as perspective-based thought leadership channeled from our organization's top minds.
These are our top five most-read topics...
THE 5 R'S: REFUSE, REDUCE, REUSE, REPURPOSE, RECYCLE
If you had been taught "reduce, reuse, and recycle" as the only important tenets of proper waste management, you'd be two Rs short. In fact, many are surprised to learn that recycling should be the last resort along the metaphorical decision tree.
In our educational post, we detail the hierarchy of the 5 Rs with specific and actionable methods for your business to implement them.
Ditching disposables or upcycling office products, the biggest benefit for your organization is a word whose first letter naturally follows R in the alphabet: S, for savings.
THE ENVIRONMENTAL CRISIS CAUSED BY TEXTILE WASTE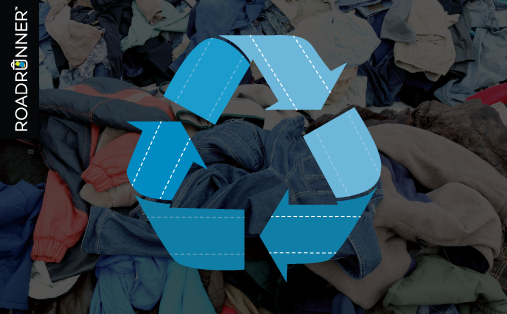 According to a recent survey from Genomatica studying U.S. consumer attitudes toward the clothing they buy...
• 58% care that material that makes up their clothing is eco-friendly.
• 55% are interested in purchasing "sustainable clothing."
•34% said they'd do all their shopping at a store dedicated to sustainable clothing.
It's a step in the right direction for the U.S., who sends more than 14 million tons of textiles to landfill each year (where it'll spend the next 200 years decomposing).
In our deep dive of the clothing industry's sustainability problem, we explore the devastating effects of "fast-fashion," brands championing an apparel recycling renaissance, and steps your business can take to reduce textile waste.
50 INTERESTING RECYCLING FACTS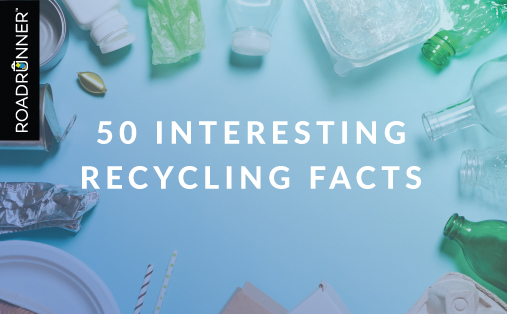 When it comes to recycling, knowledge is power. Understanding the impact you and your business might have on the environment can be enlightening and rallying for positive change. At the same time, recognizing recycling's ability to reduce and restore can be entertaining and hopeful.
Well, we've got facts for both situations in spades!
Whether you're looking for some truly mind-blowing truths about raw material usage or just need some quiz items about sustainability for your next company newsletter, our list is worth the read.
LANDFILLS: WE'RE RUNNING OUT OF SPACE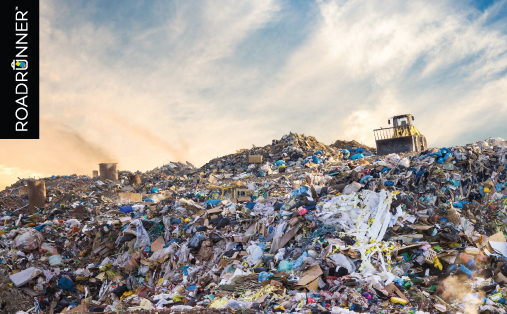 According to Columbia Climate School, the United States transforms about 30 million square meters of the Earth—each year and forever—into landfills.
But how? And why?
For the past four decades, Americans have sent between 136M and 150M tons of solid waste (about 50% of overall waste generation) to landfills annually instead of recycling or reusing it.
Thus, the U.S. is on a Titanic-like collision course with underground garbage. From hazardous waste to methane emissions to running out of space, we may be overwhelmed by the rising cost of landfills this century.
Our post examines how continuous landfilling affects the environment, your neighborhood, and your business's waste bill.
HOW TO READ PLASTIC RECYCLING SYMBOLS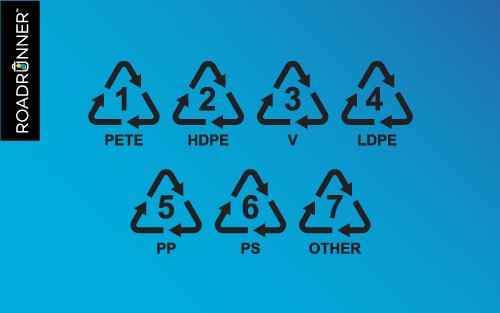 Admit it: You don't know what the plastic recycling symbols mean. You wouldn't be alone; Americans only recycle 8.7% of all plastic every year, and the knowledge gap is partly to blame. 62% of Americans believe a lack of knowledge leads them to recycle incorrectly.
In one of our most important lessons, we demystify the numbered "chasing arrow" stamps on plastic goods and containers. From PET and HDPE to PVC and "Other," this resource is your go-to for identifying and recycling plastic materials.
If you can count to seven, this should be easy.
---
Do you value the latest, most important content and commentary from waste, recycling, and environmental spheres? Sign up for our newsletter at the bottom of this page to have our weekly blog post delivered to your inbox.