Managing waste efficiently and minimizing associated costs, both financially and environmentally, poses significant challenges for businesses. This is particularly true for Multifamily Housing, which must strike a delicate balance between providing comfortable and optimized living spaces for residents while ensuring that waste and recycling programs effectively meet the needs of their occupants.
Embracing sustainable practices not only benefits the environment but also creates opportunities to attract environmentally-conscious residents who are willing to pay a premium. Additionally, it presents significant prospects for financial savings. To effectively lower waste costs in Multifamily Housing, a strategic approach is essential. This involves implementing waste reduction initiatives, actively engaging tenants, and adopting best practices that integrate technology and streamlined operations.
Here are a few strategies that help drive sustainable and affordable waste management for Multifamily Housing:
Read more from the Waste Watchers Blog!
1. Waste Audits Powered By Technology
The process of achieving greater operational efficiency and discovering areas of potential cost savings in your waste management program begins with a waste audit. You have to know what is being thrown away in order to find out what can be effectively recycled. Taking a deep dive into the waste materials and volumes generated at each Multifamily Housing location can identify high-volume categories of waste generation allowing targeted strategies to be implemented for waste reduction. A waste audit also pinpoints areas of your waste and recycling management program that need improvement or areas that are ideal for waste disposal points based on waste volume levels.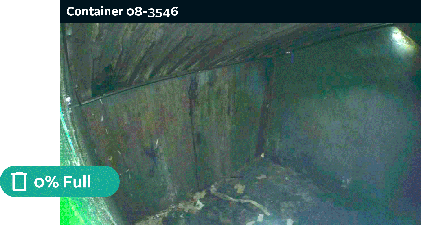 Waste metering technology is one tool that can drastically enhance waste auditing. It can help in gaining a greater understanding of waste volumes and composition through near real- time data collection on what materials are being thrown away, how full dumpsters are at times of service, and if vendors are sticking to agreed upon service levels, among other things.
A waste audit also sets baseline standards for tracking and measuring the operational waste management program at one location or across an entire portfolio. Once those initial measurements are cataloged, owners and property managers have the ability to employ data analytics to track what is working and what needs to be improved.
Here are 6 signs you're paying too much for waste and recycling services
2. informed recycling programs
Once you have a stronger understanding of how much and what type of waste each location produces, you can use that information to create efficient, optimized, and sustainable recycling and waste collection and diversion systems. Recycling services generally cost less than other forms of waste management. By implementing a recycling program, you will decrease your landfill waste and see a corresponding decrease in the level of waste collection needs.
Recycling more efficiently and sustainably often leads to smaller equipment needs across your waste and recycling program portfolio. If less material needs to be disposed of in a landfill, that often means dumpsters and bins can be appropriately downsized to avoid paying for unneeded space. Downsizing equipment into an optimal size that fits your needs presents another opportunity for financial savings as smaller equipment is often less expensive and your business will not be paying for wasted space.
How do you read those plastic recycling symbols? Find out HERE!
3. advanced tenant education and engagement
Educating and engaging tenants on the ins and outs of your new operational waste and recycling program can be considered the next step in Multifamily Housing. It is critical that tenants understand the why and how behind implementing better waste management practices as they are the ones ultimately generating and disposing of the waste and recyclables.
Recycling is worth the effort according to 80% of Americans, but yet more than half of recyclable materials still end up in the trash.
Recycling is worth the effort according to 80% of Americans, but yet more than half of recyclable materials still end up in the trash. That's because 60% of people also say they don't know how to properly recycle. Offering comprehensive educational programs can be a powerful tool in fostering a culture of proper disposal resulting in waste reduction, cost savings and eco-friendly outcomes. Empowering tenants to take an active role in optimal waste management practices in Multifamily Housing helps overcome barriers such as confusion, lack of confidence, and mistrust in waste diversion efforts. It also improves material sorting, which correlates to higher recycling rates and lower waste costs. The cost impact of clear, concise, and engaging tenant education is a more affordable operational waste management program.
Recycling better can benefit your business in these 4 key areas!
4. data-informed waste contracts and vendor negotiations
Data-informed waste contracts that fit your needs are critical to the operational success, optimization, and affordability of waste management programs in Multifamily Housing. Many traditional waste companies base equipment needs and service schedules on estimated generation volumes. This approach rarely factors in nuances with your own equipment requirements, space availability, waste streams, recycling needs, and data reporting.
A waste audit helps identify each location's custom needs, and waste metering certainly simplifies the data collection process. Researching market rates and industry standards can show if current contracts and service levels measure up to the amount of money being paid. Paying close attention to invoices can also prevent errors from popping up and extraneous charges being added without you knowing.
An estimated 80% of apartment residents believe that living in green multifamily communities is good for their health
Unfortunately, these action can be time consuming and difficult, especially without dedicated resources on staff. Working with a waste service provider, like RoadRunner, can reduce your burden and create a hassle-free experience for waste management. Additionally, a waste service provider can leverage their industry expertise, rate analysis technology, and buying power to negotiate the best rates for customers. The application of proprietary technology through working with RoadRunner can lower waste management costs for Multifamily Housing, enhance financial and environmental sustainability, and help your business achieve goals such as recycling more efficiently or pursuing a zero waste strategy.
we're your waste and recycling experts in multifamily housing
While affordable, hassle-free, and sustainable waste and recycling requires a strategic and collaborative approach in Multifamily Housing, residents are up for the challenge if it means they're doing good and living better.
An estimated 80% of apartment residents believe that living in green multifamily communities is good for their health, 81% of consumers today consider sustainability when making purchasing decisions, and 78% of remodelers believe that homebuyers are willing to pay more for green homes.
A cleaner, more cost effective waste management solution can ensure Multifamily Housing remains a desirable place to live well into the future and working with data-driven, modern service providers like RoadRunner can help get you there faster.
Find RoadRunner on Facebook, Twitter, Instagram, and LinkedIn!