It's hard to believe that in 21 days we'll be welcoming a new year and a new decade. Many of us will spend time looking back on the year (or the decade in this case) to consider what we learned, how we've grown, what worked, and what didn't work. But it's also important to look forward to what's coming. In the world of recycling and environmental initiatives, 2020 is stacking up to be a big year! In this post, we're covering the environmental and recycling initiatives that we're most excited about in 2020. Read on to learn about the initiatives and what your business can do to participate or replicate the efforts.

The Ocean Cleanup Launches System 002
In 2018, the Ocean Cleanup Project launched the world's first ocean cleanup system (System 001) in the Great Pacific Garbage Patch. Results from System 001 showed that the system was not effectively retaining plastic and a fatigue fracture caused a section of the system to detach. Four months into the test, the system was removed from the ocean and the team began working to identify the cause of the issues and fix them. After months of redesigning the system and testing, The Ocean Cleanup headed back to the Great Pacific Garbage Patch with System 001/B, which proved to successfully retain plastic. Based on the proven results of System 001/B, The Ocean Cleanup project developed System 002, which will launch in the Great Pacific Garbage Patch at the start of 2020.
Keurig Plans To Make K-Cups 100% Recyclable
Calling all coffee-lovers: Keurig is shifting to recyclable K-Cup pods. Traditionally, coffee pods were not recyclable due to a mixture of aluminum and plastic used to make them. Understandably, most of these pods ended up in landfills. According to USA Today, Keurig sold enough K-Cups in 10 years to circle the globe ten times. By the end of 2020, Keurig plans to transition to eco-friendly, 100% recyclable K-Cup pods in the United States. Coffee drinkers will finally be able to enjoy their K-cups guilt-free.

Dell Surpasses goal to use 100 million pounds of "sustainable materials" by 2020
Dell Corporation is, in many ways, an environmental leader in the technology industry. In 2013, Dell introduced their Legacy of Good plan, which laid out ambitious sustainability goals they hoped to accomplish by 2020. The plan committed Dell to using 50 million pounds of sustainable materials in its products by 2020. To do so, Dell planned to use materials like recovered plastics collected from beaches, bamboo cushions, and mushroom cushions in place of virgin plastic products. By 2017, three years before the target date, Dell reached their initial goal (50 million pounds of sustainable materials) and decided to double down and commit to using 100 million pounds of sustainable materials in its products by 2020. In 2019, Dell achieved their goal of using 100 million pounds of sustainable materials in products ahead of schedule. We can't wait to see what they commit to in the coming year!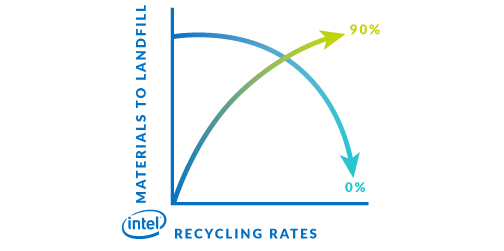 Intel commits to zero hazardous waste and 90% recycling of non-hazardous materials in 2020
With a strong commitment to sustainability, Intel continually strives to improve its operations and minimize its impact on the environment. Since 2008, the company has recycled more than 75% of its total operational waste by focusing on reducing the amount of waste generated while increasing the amount recycled. In 2020, Intel aims to achieve zero hazardous waste to landfill, and recycling rates of 90% for non-hazardous waste.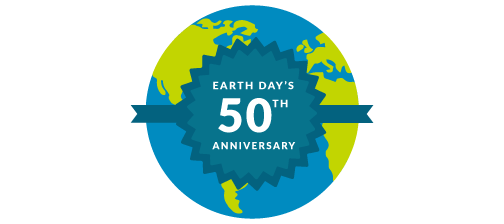 Earth Day's 50th Anniversary
Save the date: Earth Day 2020 marks the 50th anniversary of the Earth Day movement. To pay tribute to the 50th anniversary, Earth Day Network is tackling one of the most pressing environmental challenges the world currently faces: climate change. "Earth Day 2020 is more important than ever… By the time we get to April 22nd next year, we will have reached the deadline for when countries originally committed to deliver their new Paris targets," explained Hilda Heine, President of the Marshall Islands. Under the Paris Agreement, nations must state their national commitments to climate change every five years. Between the 50th anniversary of Earth Day, and the Paris Climate agreement milestone, 2020 will be a major year for the fight against climate change. Visit earthday.org to learn how to show your support for the organizations fighting climate change.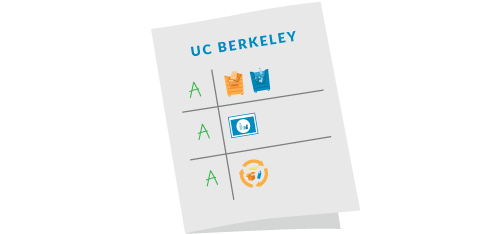 Studying Waste At UC Berkeley
"Zero Waste" has become an ambitious goal of many educational institutions throughout the United States. Many people think Zero Waste initiatives are unrealistic, but Zero Waste is more of a philosophy than an actual end goal. It involves reevaluating the way we produce and use materials, as every material can be reclaimed and reused in some way. The University of California Berkeley plans to become Zero Waste by 2020. To help reach their goal, UC Berkeley focuses on standardizing containers and signage, proper sorting of materials, education, purchasing decisions, and more.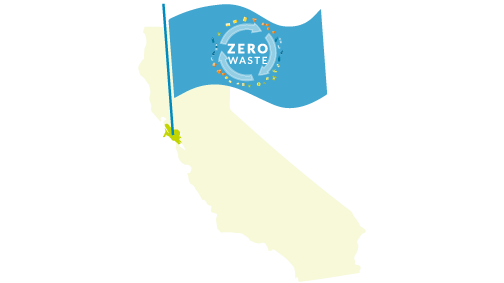 San FRANCISCO aims for Zero Waste
In 2002, San Francisco set a city-wide goal of Zero Waste by 2020. Since then, the city passed a Mandatory Recycling and Composting Ordinance, requiring businesses and residences to recycle and compost their materials. San Francisco has yet to reach its Zero Waste goals but diverts around 80% of its waste from landfills, which is more than any other city in the United States. As the Zero Waste concept continues to spread, we can expect more cities throughout the United States to adopt the "landfill free" movement in 2020.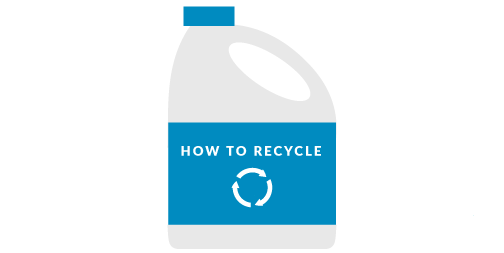 Clorox Goes Sustainable
The Clorox Company has been dedicated to reducing waste for years. How do they do it? By installing recycling programs at each of their manufacturing plants and in their corporate offices. Clorox has reused, recycled, or composted over 85% of unsellable materials annually. But this isn't where they draw the line. By 2020, Clorox aims to reduce waste by having ten zero-waste-to-landfill sites. They have also set specific goals for their product packaging, including:
- Having more than 90% of all products in recyclable primary packaging
- Having only recycled or certified virgin fiber in packaging
- Including recycling instructions on all packaging
- Eliminating PVC in packaging
As of the end of 2019, 92% of their packaging is recyclable, and more than 99% of paper-based packaging they purchase is made from recycled or certified sustainable virgin fiber.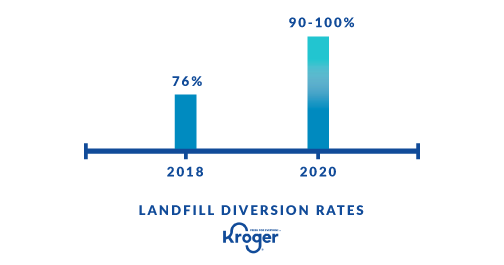 Shopping For Sustainability
In 2018, Kroger reports diverting 76% of waste generated from landfill using reduction, reuse and recycling methods. The grocery chain is now aiming for Zero Waste by 2020, and zero food waste by 2025 with their Zero Hunger-Zero Waste plan. Rodney McMullen, Kroger's CEO explains, "More than 40 percent of the food produced in the U.S. each year goes unconsumed, while one in eight people struggle with hunger." Kroger is on track to meet and exceed most of its 2020 sustainability goals by focusing on reducing food waste, recycling, composting, crowd sourcing, and donating. According to its sustainability report, by the end of 2020, Kroger will recover over 3.3 billion tons of cardboard annually, recycle over 200 million more pounds of plastic, and reduce water consumption by 5%.

Dunkin' Donuts To Phase Out Foam Cups Worldwide
You may have already purchased one of Dunkin's new and improved paper retail coffee cups. Dunkin' has committed to completely phasing Styrofoam cups out of their operations by April 2020. Styrofoam is incredibly bad for the environment as it's not recyclable, and it never decomposes. The new paper cup is still not recyclable due to a plastic lining in the cup, but Dunkin's main priority was to find a sustainable alternative to the foam cup. By doing so, Dunkin' estimates it will help to remove nearly one billion foam cups from the waste stream annually.


CLOSING THOUGHTS
Whatever your environmental and recycling goals are for the New Year, RoadRunner wishes you great success in 2020! One of our goals for the New Year is to continue educating businesses about the importance of recycling more and reducing waste. If you're interested in staying in the loop, subscribe to our email newsletter or get in touch with us here. Best wishes to you and yours this holiday season!