When it comes to waste and recycling containers, they aren't one-size-fits all. Choosing the right container(s) will go a long way in getting the job done in the most efficient and cost-effective way possible. Continue reading and explore our guide to help understand the factors that go into choosing the right container and determining which rental options are right for your business!
Why Does The Right Equipment Matter?
Often times, businesses overpay for waste and recycling equipment that isn't optimal for the job. We frequently find that businesses are using containers that are too small to handle their waste generation, which results in overage charges from their waste hauler. On the other hand, businesses can be left over-paying for equipment that is too large for their needs, because their containers are being picked-up too frequently and they are essentially paying for air in their containers. At RoadRunner, we understand your business requires specific equipment based on the project. Our technology identifies issues that need resolved and then creates detailed plans to make your operations as efficient as possible. We ensure your onsite equipment matches the volume of materials you generate and your containers are being utilized to full capacity.
---
Our Approach :
Rental Term Options :
We'll help you get the right waste and recycling equipment that meets the demands of the job based on our three rental options :
Recurring :
This option is most often used and ideal for businesses in need of waste and/or recycling services on a recurring basis.
Short Term :
Perfect for businesses that need a container for a short period of time for things like clean outs, renovations and moves.
Lease :
We offer the option to lease a baler or compactor for your waste and recycling.

The Right Containers For The Job :
Below is an example of how we would help a business walk through the equipment renting process. We will determine the job the waste equipment needs to do, what materials will go into the container, which container makes the most sense, and which size would work best. Consider the following questions when renting a container to ensure you get the most out of the equipment in the most efficient way possible.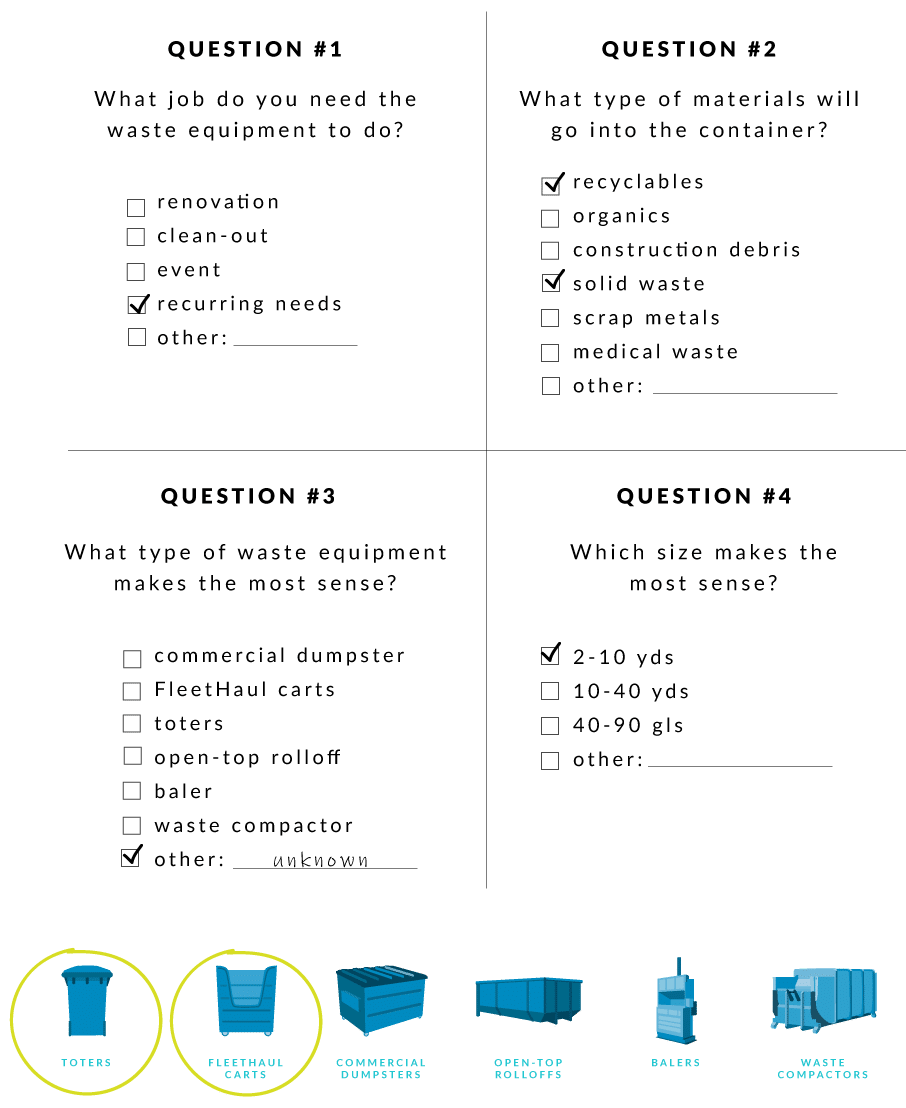 In this example, it makes the most sense for the customer to utilize a toter and RoadRunner's FleetHaul carts on a recurring basis based on their volume and materials generated.
Container Options :
Based on your business' unique needs, here are the best ways to utilize your containers :
COMMERCIAL DUMPSTERS
Commercial dumpsters are often used for recurring waste & recycling service, but they also work great for short-term rentals to manage extra waste during things like renovations, clean outs, and events.
FLEETHAUL CARTS
We highly recommend our FleetHaul carts to businesses looking to improve their long-term recycling efforts. They are utilized for separating out your clean streams of recycling (OCC, Paper, and Commingled). Carts are space-efficient and can conveniently move from outdoors to indoors.
TOTERS
Toters are great for businesses that generate low/varying volumes of waste and/or are limited on space. They are a great space-saver and can also be used to separate out recycling streams.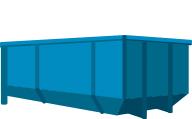 OPEN-TOP ROLLOFFS
Rolloff dumpsters are great for a wide-range of waste needs. If your business generates a significant amount of waste on a recurring basis, many times a rolloff container is more cost effective than a standard dumpster. They are also ideal for bulky waste, especially for construction and demolition projects. This is most common for short-term rentals.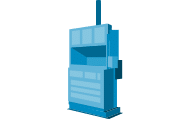 BALERS
Balers are used for baling recyclable materials like cardboard and paper for bulk pickup. Balers are ideal for businesses that generate a significant amount of cardboard or paper waste, such as: hotels & hospitality, hospitals & healthcare, restaurants & bars, groceries and supermarkets, retail & shopping malls, shipping & distribution.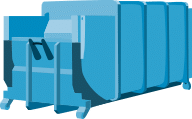 WASTE COMPACTORS
Compactors are generally used for recurring needs of businesses who generate high volumes of waste and recyclables. They come in a variety of sizes ranging from 1-10 cubic yards to 10-40 cubic yards. Compactors are commonly used in shopping plazas, restaurants, hospitals, and universities.
---
How Can RoadRunner Help You?
Finding the right waste and recycling equipment that makes sense for the job can be difficult. Whether it is a short-term project or you'd like to compact the large amounts of waste your business generates, we have the right equipment and rental options for you. Our dedicated team is always available to find the most affordable and reasonable selections that make sense for the job!
GET PRICING