Every year, RoadRunner employees mark their calendars for our annual company retreat—better known to us as RoadRunner Day. To celebrate our anniversary, we host our remote teams throughout the country at our headquarters in downtown Pittsburgh. This event is something we've always been committed to as an organization, because if there is one thing we know for sure it's that our team genuinely wants to form bonds with one another outside office walls to create and deepen meaningful relationships, which help us work better together and boost company morale. However, this year we unsaved the date because, much like everything else, COVID-19 canceled any plans for an in-person event. Despite this unexpected roadblock, we still wanted to celebrate our widely-anticipated event and, luckily, COVID-19 not only didn't stop us from doing so, but also inspired us to plan and host, debatably, the best RoadRunner Day yet!
Given that many organizations are likely in the same boat as we are—working from home, adjusting to a new normal, and considering fresh ideas to engage employees, virtually—we thought it would be helpful to share a full run-down of the event, how we planned for it, what we learned, and the tips that helped make RoadRunner Day 2020 a smash hit. You might be surprised to learn that through thoughtful planning, team-bonding activities, lip-syncing videos, virtual happy hours, and more, you too can organize a virtual event just as great as an in-person one. Read on for our event recap and to gather some valuable tips for success!
Our First Virtual Retreat
RoadRunner Day is giving back to the community and forging bonds with the coworkers we don't often have the opportunity to to work with on a daily basis. In years past, our retreats typically consisted of gathering to do volunteer work as an organization in the morning paired with fun-filled activities in the afternoon. But, when we began planning for this year's event, we quickly realized RoadRunner Day would have to take on a different format. Instead of planning to start the day with a scheduled clean-up along the Pittsburgh riverfront, or volunteering at a local park, our cultural committee knew a Zoom meeting sync was in order to rethink the event format entirely and discuss how to appropriately plan a retreat for nearly 225 employees (across different time zones), virtually.
After scheduling a firm date for RoadRunner Day, our team of planners, a.k.a. the RoadRunner cultural committee, put on their thinking caps and began brainstorming our first virtual retreat. The planning group consisted of our CEO, Graham Rihn, Director of Operations, Jamie Germani, and the rest of RoadRunner's cultural ambassadors. Looking back on the planning process, one thing is for sure: over-communication is critical. Not only did our cultural ambassadors conduct multiple touch-bases per week to stay in close contact, but we also found out quickly we needed to communicate frequently with the organization to help employees prepare for the day, motivate participation, and get them as excited as we were for the event.
Given that the entire company has been virtual since the onset of the pandemic, a major goal of ours for this year's event was to have our team feel connected despite being physically distant. Therefore, it was important for us to involve as many employees in activities beforehand to make our virtual retreat a success. Some of these activities that required pre-event preparation included lip sync videos, company appreciation videos, t-shirt contests, and more! (See below for these examples—You won't want to miss them!)
Once everything was carefully planned and scheduled, our agenda and activities were as follows:
9:50 AM-10:00AM: Welcome and announcements from our CEO
10:00AM-11:50AM: Airbnb Experiences—Instead of physically traveling this year, we traveled virtually to Italy, Portugal, and, even, the living room of an Olympian! How, you may ask? Airbnb recently launched digital experiences so that people can connect and "travel" while practicing social distancing. As part of these ingenious experiences, employees were given the opportunity to attend one of the following Zoom-hosted events: 'True vs. False' Funny Historical Game, Mind and Body Masterclass, Confidence Coaching, Transform Your Life with Small Steps, Meet My Bees, or Hand Lettering and Modern Calligraphy. To keep things organized, we sent out a list of the event options in a Google sheet a week before the event with 25 spots available in order to collect sign-ups, proactively gather attendee head counts, and purchase these experiences ahead of time.
RoadRunner received our very own bee colony in Portugal from host Joana
Practicing our calligraphy techniques with host Nicole
Playing historical trivia all the way from Greece with Fragiskos
Virtual workout and motivational storytelling with Olympian Mechelle Lewis Freeman
12:00-12:50PM: Lunch. A complimentary lunch credit was sent to employees to order delivery to their homes.
12:50PM-1:00PM: RoadRunner Appreciation Video Watch Party. Cue the waterworks! Now more than ever, it is important for us to reflect on the bonds we have forged and the memories we have made as part of a tightly-knit professional community. To help showcase our appreciation for RoadRunner as a place to work, we invited employees to share their thoughts on what RoadRunner, and its values, mean to them. A compilation of all the video responses were shared while the organization took part in viewing the video via Zoom, together. Check out the video here:
1:00-2:50PM: Company Escape Room. Now for some real fun! The Offsite Co. helped us host a virtual escape room for our teams to tackle together. We split up into small groups of three or four and raced to be the first team to escape (the virtual) Treasure Mountain. As a result of RoadRunner's recent hiring sprees paired with the fact that the company has been working remotely since March, this activity was helpful in introducing and connecting team members that may have never even met before!
3:00-4:00PM: Fireside Chats. During this time, we had the opportunity to join two, thirty-minute "fireside chats" conducted by a departmental moderator to learn more about our colleagues and the divisions in which they work. It was a unique opportunity to learn more about the interviewee, their unique role, and some of the challenges (and successes!) the departments have faced during COVID-19.
4:00-4:15PM: Closing Ceremony. To end the day, our CEO, Graham, announced the t-shirt contest finalists and winners (which were created and submitted prior to RoadRunner Day), shared up his thoughts about the day, and debuted the widely-anticipated lip sync video, which we watched as a company together. Watch the video below:
Thank you to The Offsite Co. for helping us create this Lip Sync video!
4:30PM: Happy Hour. (Did you think it was over?!) Despite a closing ceremony, RoadRunner Day did not end there. We hosted four optional happy hours for anyone interested in prolonging the RoadRunner Day excitement and activities. During this time, employees could attend the following virtual events: Pop Culture Trivia, a live music set with DJ Mr. Andre, Nuggets vs. Jazz Game 3 LIVE, or Mixology with Olivia and Milana. Truly, no matter your interests, there was a happy hour available for everyone!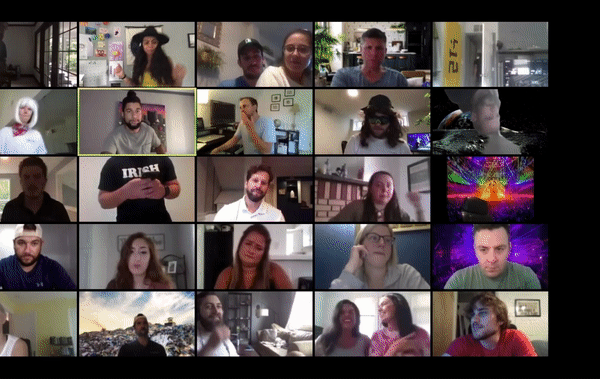 BRINGING OUR COMPANY VALUES TO LIFE
Even though the day was all about employee bonding and having fun, our team still found ways to give back to the community and help make a positive impact. Throughout the day, employees were encouraged to complete as many of our "RoadRunner Day Challenges" as they could following the handy chart below. Challenges included opting out to receiving reusable silverware when ordering lunch, conducting a neighborhood cleanup, taking a selfie with their recyclables, drinking from a reusable mug, and more. Completing the challenges were completely optional, but it was inspiring to see how many individuals went above and beyond—truly expressing their commitment to our company's core values: trust, care personally about each other, passion, embrace challenge, humility, and accountability.
Pictured below are some of the submissions we received!
POST-RETREAT THOUGHTS
As we continue to navigate through the pandemic, it has become abundantly clear to our leadership team how important it is to have the entire company and its employees feel connected to one another even if we can't be together in the same room. And, in this spirit, our first virtual RoadRunner Day allowed us to do just that: Help employees bond, boost employee morale, and cultivate a stronger, more connected culture.
If your business is planning a virtual retreat during the pandemic, we recommend reflecting on your organization's foundational goals and values as well as what you would like to accomplish by hosting the event. From there, start planning with your team members a format that makes sense for your organization (it helps to have, or put together, an event or cultural committee to ensure accountability and an organized planning process). If there is one thing we've learned for certain, it's to not worry if things don't go as planned, because they rarely ever do—And, after all, we are living and working through a global pandemic, doing the best we all can.
Has your organization planned virtual gatherings during the COVID-19 crisis? If so, we'd love to hear how it went and tips for making the next one even better. Please share your experience with our readers in the comment section below or on our LinkedIn page. If you're interested in joining in on the fun, head over to our careers page to view and apply for our open positions. We look forward to hearing from you!