Did you know that humans produce a whopping 2.01 billion metric tons of municipal solid waste (MSW) worldwide, annually? If this sounds like an incomprehensible amount of waste, that's because it is! But, it doesn't have to be this way—Thankfully, in recent years, we've witnessed many more effective and sustainable methods of disposal come to fruition. Take for example, recycling: If you recycle just one ton of plastic, it saves 5,774 kWh of energy, 16.3 barrels of oil, 98 million BTUs of energy, and 30 cubic yards of landfill space.
And, it seems, corporations are starting to take the hint. Due to the unavoidable impacts of climate change and the growing importance of sustainable practices, many large and influential companies have begun to realize the significance of addressing and integrating sustainability and reuse into their business practices. Unilever, a leading manufacturer of cleaning and laundry products, is a perfect example of a large business that is pushing for accountability across its supply chain. Most recently, the company announced plans to reduce its carbon footprint by eliminating fossil fuel derived chemicals in its products by 2030. This announcement comes on the heels of additional Unilever sustainability initiatives like its plan to add carbon footprint labels to packaging and its leveraging innovative technology to create a chemically-recycled plastic for ice cream cups.
As society, and businesses alike, continue to realize the crucial need to integrate environmentally-friendly practices and priorities, such as corporate social responsibility initiatives and more effective waste disposal, it begs the question: Who should be responsible for the product once it is no longer useful to the consumer? More often than not, the answer for many businesses is that the responsibility of proper disposal is forced onto the consumer with little accountability on the producer for the product life cycle itself. However, in recent years, a transfer of responsibility has occurred—putting the onus of the post-consumer phase back on manufacturers and distributors. This concept, introduced by Thomas Lindquist in Sweden in the 1990s, is known as extended producer responsibility (EPR). At its core, this principle aims to prevent waste at the source, promote sustainable product design, and minimize the negative impacts that improper waste disposal has on human health and the environment.
Read this blog post to learn more about extended producer responsibility, why it's good for business, which companies are embracing this principle, and how your company can begin applying this concept to its business practices to garner results.
WHAT IS EXTENDED PRODUCER RESPONSIBILITY?
Traditionally, commercial businesses dispose of waste by employing the services of a waste management company to collect, transport, and, most often, landfill materials. However, EPR is a strategy that shifts the responsibility of post-consumer disposal from municipalities back to the producers. While most waste gets sent to landfill for a variety of reasons when using traditional disposal methods, the adoption of EPR ensures that the responsibility of disposable materials is placed on manufacturers, which encourages the creation of a more sustainable system (read: reusable, recyclable, and less toxic) and circular production process from the get-go. By assuming accountability and better understanding the lifecycle of a product, companies can then create items that result in lower volumes of waste and are more cost-effective overall. According to Recycling Today, "EPR also appeals to circular economy advocates, and sometimes to the brands seeking to increase use of recycled materials, as it allows producers to manage the recycling system like a supply chain by more directly connecting recycled commodities with production."
In the United States, the EPR concept is most often applied to toxic or hazardous products that pose a risk to human health or the environment when disposed of incorrectly—However, there is, quite obviously, room for this practice to be applied to more than said waste. The most commonly mandated materials requiring EPR, to date, include electronics, carpeting, medical waste, paint, batteries, mattresses, and more. According to the Product Stewardship Institution, there are more than 115 extended producer responsibility (EPR) laws that have been enacted in the U.S. to address over a dozen types of consumer products. Currently, though, there is no federal law governing EPR in America—meaning the majority of businesses interested in EPR must adopt this practice themselves with no incentive. Despite this, each state or city may choose to implement its own policies or laws to mandate this practice or provide companies more incentive to embrace this principle. See a few examples of this below.
As of July 2020, 19 states require mandated EPR programs to benefit both consumers and the environment. The following examples are some of the most widely-known EPR instances, all enacted in the state of California, which has a total of eight product steward programs:
- The Mercury Thermostat Collection Act of 2008 requires manufacturers of mercury-added thermostats to establish and maintain the collection, transportation, recycling, and disposal of out-of-service mercury-added thermostats.
- The California Paint Stewardship Law establishes a statewide program to manage the reuse, recycling, and proper disposal of leftover paint.
- The California Used Mattress Recovery and Recycling Act aims to reduce illegal dumping, increase recycling, and substantially reduce public agency costs for the end-of-use management of used mattresses.
Why is EPR Good for Business?
Businesses are more frequently taking conscious steps toward improving how they manage consumer waste. This could partly be due to the rising cost of raw materials as well as the increasing demand—from environmental activists, conscious consumers, and lawmakers—to protect our planet. To create brand new products, natural resources are most often extracted from the Earth, manufactured into products, sold to consumers, and used until they are discarded as waste. See the diagram below.

According to a New York Post article, Mathis Wackernagel, the founder of Global Footprint Network and the head of Earth Overshoot Day, reports that in 2017 we used a year's worth of the Earth's resources in only seven months. He explains, "We are using the Earth's future resources to operate in the present and digging ourselves deeper into ecological debt." As the importance of conserving raw materials becomes increasingly critical, brands can use the EPR principle to secure access to said materials by accepting used products and reusing, or refurbishing, the returned parts in creating new products. This, in essence, helps to minimize our dependence on natural resources, prolong the life of raw materials, and reduce overall production waste in the long run. For this reason, the EPR principle is worth adoption because, at the heart of it all, this approach helps organizations tweak their production process to decrease their environmental footprint (reduce toxins, use fewer materials), design for durability (reducing waste and increasing propensity for repair & reuse), and further the lifespan of their product, which saves money on production and material costs in the long run.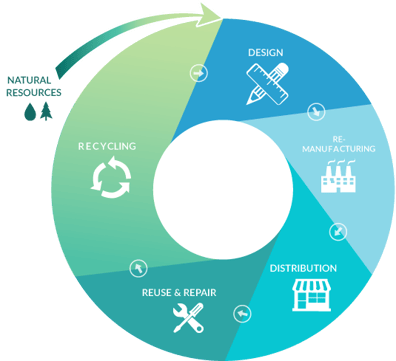 Moreover, as the notion of a circular economy has gained more traction over the last decade, EPR is continuing to be seen as a tool to help businesses propel this policy. In fact, many businesses seek to adopt aspects of EPR, voluntarily, to benefit their bottom line. Don't just take our word for it either. In Connecticut, the Product Stewardship Institute (PSI) released a statewide evaluation of four EPR laws for paint, mattresses, mercury thermostats, and electronics. The report found that these programs have helped divert over 26 million lbs.of material from landfill, save Connecticut communities and taxpayers more than $2.6 million per year, provide additional services worth another $6.7 million, and create more than 100 new jobs.
But, the change in attitude by corporate entities towards creating more sustainable products does more than just improve a brand's bottom-line; it also has an impact on consumers, especially those that are of the millennial generation and beyond. Indeed, a Nielsen report found that, globally, 73 percent of millennial consumers are willing to spend more on products and services if they come from sustainable brands. Meaning, when a business prioritizes sustainability efforts as part of their business, it not only inspires their customers to be more environmentally-friendly themselves, but it also benefits the company by impacting its bottom line by increasing support and sales.
Another motivating factor of EPR right now is the ability for brands to build stronger relationships with their customers—An important priority as consumers are suddenly shifting brand loyalties amidst the global pandemic. In recent years, companies have the unique opportunity to motivate consumers to make more sustainable purchases by offering discounts or rewards for those who engage in sustainable programs. Madewell, a J. Crew-owned brand well-known for its denim line, grew its sales from $121.7 million from $139.7 million—a 15 percent increase—by prioritizing an innovative reuse and recycling program.. To achieve this level of growth and success, Madewell partnered with ThredUp, the world's largest online thrift store, to resell its own used jeans. In return for used jeans, Madewell will share a credit to the consumer for use at its stores. Offering reuse and recycling programs like Madewell's helps consumers feel good about where they shop, motivating them to support the brand with their dollars and continued loyalty.
Companies Embracing EPR
Companies of all types of sizes have begun focusing on the end-of-life treatment of consumer products, realizing that doing so can also have a positive impact on their brand in several ways. For example, Apple offers trade-in programming for working devices, including iPhones, iPads, Macs, and PC desktops. In return, the company will apply a credit towards a new Apple purchase or recycle the device for free. Another example of EPR is the Armstrong Ceilings Recycling Program, which is the first and longest-running program of its kind in the commercial ceilings industry. To date, the company states that it has recycled more than 200 million square feet of used ceiling panels, saving more than one million tons of virgin raw materials and diverting more than 100,000 tons of construction waste from being disposed of in landfill. According to Waste Dive, the company was selected as the Upcyclers Network Closed Loop winner in the B2C category for its take-back program, where recovered ceiling panels are returned to the closest Armstrong Ceilings plant and upcycled into new ones.
An EPR approach has also been adopted by the popular outdoor recreation and apparel company, The North Face, and encourages people to drop off unwanted clothing and footwear at participating stores. Through its Clothes The Loop program, The North Face accepts and sends the apparel to Soles4Souls, whose mission is to create sustainable jobs and provide relief through the distribution of shoes and clothing. In exchange for their donation to The North Face, customers receive a $10 reward toward their next purchase. So far, customers have brought in 95,000 lbs. of clothing and footwear to be reused or recycled.
So, What Can Your Business Do?
As consumers look to shop more sustainably and businesses aim to minimize their impact on the environment, now is a great time to start exploring the idea of extended producer responsibility (EPR). Under this principle, businesses should begin designing products with the entire lifecycle in mind to reduce production waste, increase sustainable material use, and plan for the reuse of a product's elements. For this concept to work, every part of the supply chain should be "bought-in" to the idea of EPR, ensuring product designers and manufacturers prioritize the production of items using more environmentally-friendly materials to help maximize the life of their products. This includes creating merchandise to be reused, repaired, or recycled in the long run. On the other hand, consumers must also take responsibility for part of the EPR process by returning old purchases back to the company for their materials to be recycled or reformatted by the original provider. Businesses can inspire consumers to take action by being transparent in their processes, highlighting the sustainable impacts consumers play a part in, and, of course, through offering recurring rewards or incentives for their support of EPR initiatives.
Need help getting started? Evaluating your business' supply chain is a great place to begin. Building a more sustainable supply chain can increase business efficiency, reduce costs, and generate new business opportunities while significantly reducing your environmental impact—So what are you waiting for? If you have any questions or are looking for expertise in sustainable disposal, or material reuse, please feel free to get in touch with us today for a waste audit and custom waste & recycling program creation!