With the wide range of internal waste & recycling receptacles on the market, it can be challenging to figure out which option makes the most sense for your business. Before you go out and purchase receptacle(s), it's important to consider a number of factors. In this post, we run through the most popular receptacle options on the market, and the factors you should consider, so you can make an informed decision and go with the best option for your organization. Continue reading to learn more.
Important Factors To Consider
Determining which receptacle option is best for your business can be challenging. Before you get started, consider the following factors:


HOW MANY STREAMS WILL YOUR BUSINESS BE COLLECTING?
The number of waste streams your business collects will determine the number of containers needed in each receptacle station. For example, if your office collects Paper Products, Commingled Materials, and MSW (landfill waste), then it makes sense to use three receptacles, or containers, to collect each stream separately. If your office collects Paper Products, Commingled Materials, MSW, and Compost, we'd recommend using four containers to collect each stream separately.


HOW MANY STATIONS WILL YOU NEED?
The appropriate number of receptacle stations will vary based on available space, your budget, and your recycling/diversion goals. Start by identifying the types of waste and associated volumes that your business generates. Determining these factors will help you understand how many stations to purchase and where to locate them throughout your building. If you need some help identifying what types and quantities of waste your business generates, check out our guide to conducting a waste audit.
CONTAINER TYPES
Once you consider the factors listed above, it's time to determine the best receptacle system for your business. The following section includes a general description of every available receptacle option on the market, along with a key that summarizes the affordability, durability, and customizability of each particular option.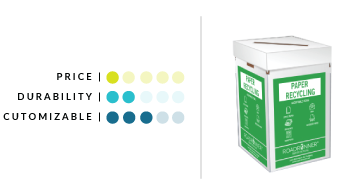 CARDBOARD RECEPTACLES
Cardboard Receptacles are great for short-term waste and recycling needs. The bins come in a variety of sizes and are great for temporary occasions like sporting events, trade shows, or concerts. The receptacles ship and store flat to save space and allow for quick assembly. Once you're finished using them, the cardboard can easily be broken down and recycled!
STANDARD RUBBERMAID SLIM JIMS
Slim Jims are huge space savers and can fit virtually anywhere inside your facility. Made from durable resin material, these containers are a great option for organizations seeking an affordable yet high-quality receptacle. Depending on what makes sense for your business, you can stage the containers individually or adjoin them with other Slim Jims in your station.
ADJOINING RUBBERMAID SLIM JIMS
This station is ideal for businesses that are looking to customize their recycling experience but not spend a fortune. With these containers, you can maximize your recycling program with color-coded and customizable lid openings and billboards to match the stream each receptacle is capturing. The Slim Jim Recycling Station is a durable and affordable option for most commercial environments.
KALEIDOSCOPE STATION
The Kaleidoscope Station is a sleeker option for indoor recycling at a variety of facilities like office buildings, schools, hotels, or hospitals. These recycling receptacles come in a variety of shapes including half moon, square, and rectangular units. For simplified recycling, the insert openings are designed to match the proper waste stream: circle for commingled, a paper slot for mixed paper products, a rectangle for compost, and a square opening for trash. Each unit also includes a white decal along the side to indicate the designated waste stream. If your waste and recycling program ever changes, the Keleidoscope containers will adapt along with it.
SPECTRUM STATION
The Spectrum Station is a modern and stylish option that fits seamlessly into most facilities. Easily adapt these containers to any environment by choosing from a variety of different colors, shapes, receptacle openings and configurations. With multiple receptacle designs to choose from (cube, ellipse and rectangular canisters), you can even match your station with your decor. This system is ideal for a wide array of industries including hotels & hospitality, hospitals & healthcare, restaurants & bars, and high-traffic lobbies and lounges.
NOVA STATION
The Nova Station is perfect for businesses that are looking for durable receptacles and the ability to feature guidance and education on the container itself. Nova Station's optional 8x10 inch backboard provides visibility to your business' recycling signage for each stream. Made from steel sheet metal, the receptacle is designed for durability and for easy collection and storage of your business' waste and recycling materials.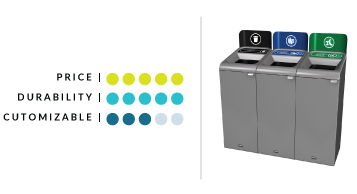 RUBBERMAID CONFIGURE
The Rubbermaid Configure fits easily into any indoor commercial environment. This container has a modern appearance that's great for schools, offices, hotels, restaurants, and more. These receptacles use a magnetic connection to keep the containers arranged in an order that best fits the space. A variety of customizable color options are available to make recycling easier for your employees and guests. These containers are made from metal, and are extremely durable, and they also feature an easy-to-access front door and handle for emptying the container(s).
WE'RE HERE TO Help
RoadRunner will work with your business to help provide customized solutions for internal waste and recycling receptacles. We partner with several distributors and can provide a multitude of options at discounted rates. If you are looking for larger equipment, check out our page for larger waste and recycling equipment here. No matter your needs, our dedicated team is always available to find the most affordable and reasonable selections that make sense for the job! Send us a message and one of our recycling experts will be in touch to help you get started.