To say 2022 was a landmark year for RoadRunner might be something of an understatement. We expanded into new markets from coast to coast. We put our commitment to diversity and inclusion on display with the Pittsburgh Pride event. And we raised tens of millions of dollars to continue our mission.
As we look ahead to the promise the new year brings, we just wanted to highlight a few big things that got us to this point in 2022.
CLICK HERE to read more from the Waste Watchers Blog!
$90 million in series d, extension funding
Our 2022 started on one heck of a strong note. Within the first week of the year, it was announced that RoadRunner secured $70 million in a Series D investment. The money was part of BeyondNetZero, a climate investing arm of growth equity firm General Atlantic. That money brought RoadRunner's total funding to nearly $130 million.
The momentum of that initial Series D investment carried RoadRunner throughout the year. We announced a $20 million Series D extension from Fifth Wall in November. The extension positions RoadRunner as being in a unique position to help decarbonize the real estate industry as one of the most advanced, comprehensive, and sustainable waste management solutions available.
CLICK HERE to read more about RoadRunner's funding
acquisition of smart-metering company compology
In October, RoadRunner acquired Compology, the world's largest waste and recycling smart metering technology company. Compology, which is used by some of the world's largest brands, helps provide transparency and insights into a company's waste management program. It shows how full a dumpster may be, what's inside of it, and when it's been serviced last, among other things.
Adding Compology to RoadRunner allows businesses to take advantage of enhanced data collection, AI, and ESG reporting capabilities.
"The future of sustainable waste and recycling management requires smart technology and intelligence," said Graham Rihn, Founder and CEO of RoadRunner Recycling at the time of the acquisition.
"We couldn't be more excited to join forces with Compology, a team that brings industry-leading technology and a shared passion for using data to help businesses increase recycling and operate more sustainably while spending less for better service," Rihn said.
expansion into 6 new markets, adding hundreds of new employees
In 2014, RoadRunner CEO Graham Rihn set out to revolutionize the waste and recycling industry. His vision is to improve the outdated, expensive, and inefficient processes involved with commercial recycling and waste management to not only save money but also the planet.
Fast forward to 2022. RoadRunner's now making that a reality in more than 20 cities across the country. We added six new markets this past year including:
• Kansas City, MO
• Phoenix, AZ
• Denver, CO
• San Diego, CA
• Portland, OR
• Providence, RI
We're now helping thousands more businesses improve their recycling rates, streamline their waste operations, and drive sustainability for the industry as a whole. But RoadRunner's incredible expansion couldn't happen without adding hundreds of new faces eager to join our mission. More than 500 people now call RoadRunner home, creating a culture that makes each person feel valued and safe, and they're working to make a difference every day.
Looking to make a career change? CLICK HERE to see RoadRunner's openings!
showcasing roadrunner culture
RoadRunner put our company culture on display for all of our employees and the world to see.
In June, RoadRunner helped with waste and recycling management for a portion of the Pittsburgh Pride parade. It was such a successful partnership that event organizers asked RoadRunner to have a greater hand in next year's planning. It also allowed RoadRunner to showcase our commitment to diversity, equity, and inclusion. We believe in creating a safe, welcoming space for everyone. That's why supporting individuals from every background and lifestyle is so important to what we do at RoadRunner.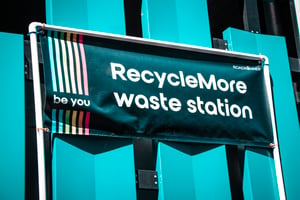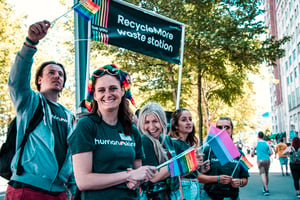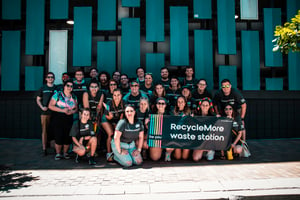 A month later was RoadRunner Day which saw our company poring over fields, trails, and forests to help make our hometown of Pittsburgh, PA a little greener. Under blue skies and sunscreen armor, the annual celebration saw hundreds of employees cleaning up a park just outside of the downtown area. It offered an in-person element for those who wished to participate and a virtual element who couldn't travel to the company's headquarters. On the other side of the country, RoadRunner's Phoenix office helped plant some greenery in a community garden.

On top of all of that, RoadRunner was also named Tech Company of the Year in Pittsburgh by Technical.ly and won Best Places to Work in Pittsburgh by the Pittsburgh Business Times. This was once again a testament to the incredible workforce that makes up RoadRunner. It proves everyone is pulling hard to drive innovation, carrying out our mission to do things in a better way.
LOOKING AHEAD
While this isn't the complete list of accomplishments, awards, and big events from 2022, it does show that what RoadRunner set out to do is being noticed. Businesses, venture capitalists, and media outlets are discovering that RoadRunner's mission is in demand. Transforming the waste and recycling industry is something that has to be taken in small steps every day. And that's what RoadRunner is doing.
Looking ahead to 2023, things like data, AI, reporting, and ESG are all expected to grow for businesses and industries. Those are all things that RoadRunner can help your enterprise with. As we all turn the calendar to a new year, find out how RoadRunner can help you meet your sustainability goals.
If your resolution is to be a leaner, greener, more sustainable business, RoadRunner is ready to help you get started!