The world currently produces 20 times more plastic than it did in 1964. Now, more than ever, it's on us to reduce our consumption of single-use plastics. Fortunately, there's no better time to get started than now. This July, millions of people around the world will pledge to go plastic free as part of Plastic Free July - and it's not too late for you to participate. Read on to learn more about the Plastic Free July movement and how your business can participate!

The Plastic Free July Movement
Led by the Plastic Free Foundation, Plastic Free July is a global movement that challenges everyone to reduce single-use plastics throughout the month of July. Last year, 120 million participants across 177 countries took part in the challenge. If going completely plastic free sounds a bit overwhelming, don't let that thought discourage you, Plastic Free July is about making small changes and minimizing your everyday plastic consumption habits. On the Plastic Free July website, you can pledge to refuse plastics and gain access to several resources and solutions for becoming plastic free. Keep reading for a recap of some of our favorite tips for reducing single-use plastic wastes in your business, this July and beyond!
Conduct a waste audit
Conducting a waste audit helps businesses understand the amounts and types of waste they generate. For the purpose of Plastic Free July, your audit will help you identify which plastics your business generates the most. When the audit is complete, focus on swapping out one or two of the plastics with reusable alternatives. Once those plastics are diverted from the waste stream, work on eliminating the other types of plastics too! For help finding reusable alternatives, check out our post on reducing single-use plastics here.
Spread The Plastic Free July Message
Talk with your coworkers, customers, friends, family members, or even the cashier at the grocery store about going plastic free throughout the month of July. Discuss which single-use plastics are "easy wins" or can be easily replaced with reusable products. Last year, RoadRunner HQ replaced all disposable cups with reusable water bottles and mugs, which ended up diverting a significant amount of waste from landfill. Based on your audit, or what you know about your own plastic consumption, which single-use plastics could your business focus on reducing? Talk to your colleagues to decide which swaps make sense for your business. Whether you choose to incorporate these changes until the end of the month, or permanently, your discussion can help change the habits of your colleagues, customers, friends and communities and create a lasting impact!
Take a look at your business' procurement practices
Chances are your business may be purchasing more single-use plastic items than you need. Consider evaluating the procurement practices with your purchasing team to eliminate unnecessary plastic waste. The Plastic Free Foundation suggests auditing your current process and asking the following questions:
Can packaging be reduced by buying in bulk?
Do we really need to procure this single-use plastic?
Can it be procured without single-use plastic packaging?
Can the same item be made from recycled content, thus closing the loop?
Can we do more by checking with the sustainability officer before purchasing?
With these procedures in place, your company can start making conscious purchasing decisions to help cut back on single-use plastics!
Avoid single-use plastics in the kitchen
The Plastic Free Foundation states single-use plastics make up 40% of the plastic produced globally. Reducing the single-use plastics in your workplace's kitchen can be a great place to start! Think of how many plastic cups, eating utensils, lids, plates and bowls your business goes through each day. Replacing them with reusable alternatives will cut back on a significant amount of plastic waste (and save a fair amount of money too). Start by identifying which plastic products your business would like to swap out. You can start small and keep adding to the list until your kitchen becomes completely plastic free!
Take The Challenge
If your business has been looking for ways to make a difference, participating in Plastic Free July is a great place to start! Begin by making small changes or challenging your coworkers to eliminate plastic completely. Either way, these changes can help create a significant positive impact! Ready to get started? Take the plastic free pledge today.
---
Feel free to reference and share our graphic below with the top tips for going plastic free at work: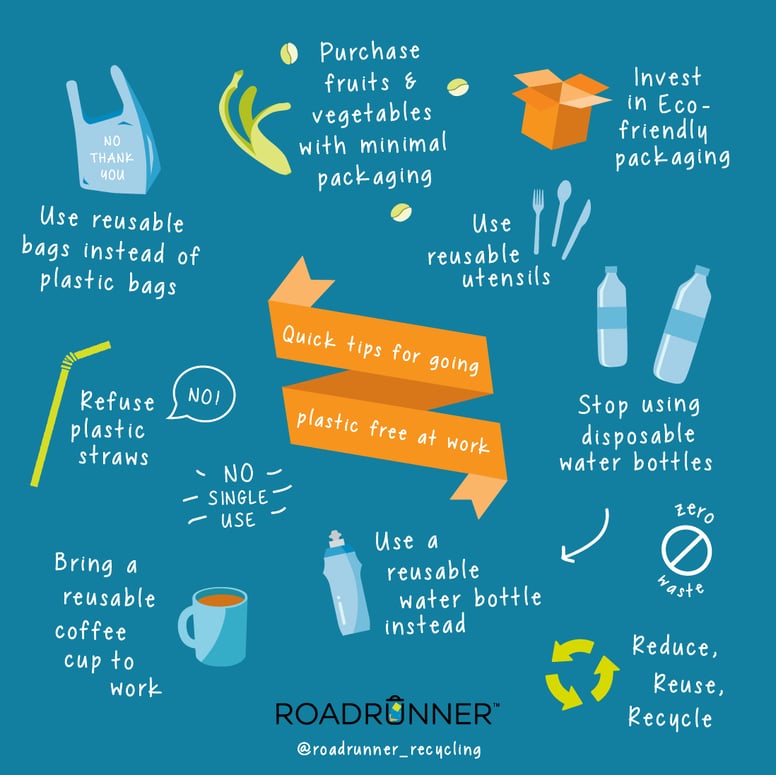 If you decide to go plastic free please share your thoughts & tips in the comments below!